New Perspectives in Film
"TRAGOS" & "HYSTERIA"
Story and Reviews by Harri Siitonen
NEW WORLD FINN -- September 2002
(pictures link to more info)

---
Very few people in Finnish America have heard of a revolutionary filmmaker in our midst, Antero Alli of Berkeley, California. He may very well be our own Aki Kaurismaki but with far more depth -- plunging into the recesses of the human soul and the unfathomable mysteries of life.


I became acquainted with Alli's work in early June, 2001 when I saw his techno-pagan futuristic feature film "TRAGOS" at the Fine Arts Cinema in Berkeley. I want very much to review it then, but it was on the eve of my departure for a summer in Finland and the project fell by the wayside. So this past March when I saw his new post-September 11-themed film "HYSTERIA" at the same theater, I vowed to spread the word about Alli and his exciting work before I left for Finland again.


"TRAGOS"

The 49-year-old Finnish-born Alli wrote "Tragos" in January 2000 and it premiered in September, just before the presidential elections. He had a hunch that Bush would win and saw the potential for repression by fundamentalist sectarianism that could come into play into America as a result. This 116-minute film shows a futuristic society in which people go underground (literally) to evade governmental and media thought control. Tragos is a virtual reality program practiced by a cult of techno-pagans who flee the oppressive conformity of the world around them. They employ computer technology to seek mind-expanding liberatory expression in somewhat the same way as did the acid-dropping LSD culture personified by Aldous Huxley and the 1970s gurus Timothy Leary and Richard Alpert.


The main difference with the Tragos program is that there isn't any chemicals or "magic mushrooms" in the medium, but dark glasses and a helmet wired to a computer are placed on the heads of the Tragos cultists as they lie down on dormitory cots where electronic vibes stimulate their transcendence into new realms of experience. Cult leader Luxor (played by Barbara Jasperson) overloads the charge one night and goes blind. Her sister Vivika (played by Sylvi Alli, Antero's wife and collaborator) doesn't awaken at all. Luxor, haunted by the thought of having killed Vivika, goes above ground to surrender herself to the authorities as a murderer.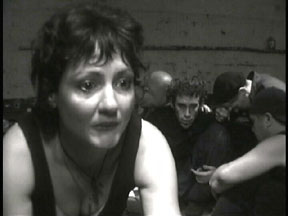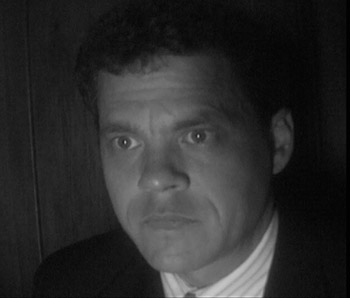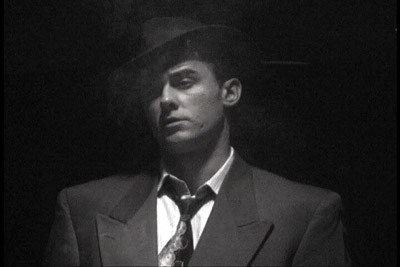 Barbara Jaspersen as "Bella Luxor, Bobby Weinapple as "The Prosecutor" and Neil Howard as "The Actor"

The District Attorney is a rabid Christian fundamentalist (played by Bobby Weinapple) who becomes obsessed by this strange cult and resolves to stamp it out as alien and satanic. (Remember, the production of this film antedated John Ashcroft!) However, this prosecutor and D.A. fails to get a conviction against Luxor and she returns to her cult. Then, the D.A. sends an ineffectual "mole" (Neil Howard) to infiltrate the cult but he falls under its spell and is incapacitated. So the fearful and fearsome D.A. himself goes underground to penetrate the scene, but we'll leave his fate up in the air, in case you should ever get the chance to see this flick.


"Tragos" spans the emotional gamut and the charismatic Sylvi Alli is memorable in her brief appearance as Vivika. She has one of the most hauntingly beautiful and resonant singing voices I've ever heard. She is also a composer and musician who designed the rolling music soundtrack for this movie. While "Tragos"received good reviews in small, off-beat publications, its showing was limited to a few art houses in Berkeley, San Francisco, Seattle and Portland and was seen only by a few thousand people.

"HYSTERIA"


This film (83 minutes), if it makes a film festival breakthrough, could really bring Alli and his work into much wider public notice. "Hysteria" was made this year by Antero and Sylvi Alli's production company "Vertical Pool". The idea was conceived in the wake of the September11th horrors in New York and is linked to it but only tangentally. This low budget effort was filmed mostly by Alli himself with a digital video camera, with Sylvi again on sound and music. Special effects were by close collaborator, Michael McWhirter of Austin, Texas.



Jakob Bokulich as "Ikar" in "HYSTERIA"

Peri (Anastasia Vega) a young beautiful Iranian woman returns home to Oakland after living two years in New York, frightened by the horrors at the World Trade Center, to stay at her sister Marion's (Atosa Babaoff) apartment. The sisters couldn't be more different. Peri is Westernized, modern, brazen, narcissistic, and wears bright red-glow vampish lipstick. Marion is conservative, ethnically traditional in manner and dress, and is attached to their parents from whom her sister is estranged. Ikar (Jakob Bokulich who co-wrote the script) is a mysterious, reclusive Croatian army veteran of the Yugoslavian civil wars who lives alone in an apartment across the hall from the sisters. Ignoring Marion's warning, Peri starts to flirt with the handsome Ikar, whom she sees as a sexy "hunk". Ikar works out as an amateur boxer in an Oakland gym, working his post-war soldier's aggression. Outwardly a cool, reserved customer, the sisters don't know Ikar is a Roman Catholic fanatic obsessed with visions of the Virgin Mary who he worships.


A Hollywood film would climax in violence. Movie fan bloodlust will not be satisfied with "Hysteria", but far more interesting things happen through the dynamics of fear and fanaticism working themselves through. This is a film of considerable intellectual sophistication, with its surreal aspects and its treatment of the whole range of human emotions. Instead of a stock, predictable conclusion this one concludes with an ambiguity which generates further thought for the viewer. (Alli came to address the audience after the conclusion of the show, which was its world premiere, to hear questions and comments. All the principle cast members were present. One woman remarked that this was the most intelligent film she had seen in years. Alli himself says that "crisis in religion and political choices, strong ethical quandaries" are themes running through his works.

WHO IS ANTERO ALLI ?


The upshot of the evening for me was my request through SYLVI ALLI for an interview with Antero which was arranged for a few evenings later. Antero was born in Helsinki on November 11, 1952, and moved to Toronto with his parents at age 4. When Antero was 11, they moved to Los Angeles, where he graduated from high school. He took a few college theater classes at Santa Monica City College and in the San Fernando Valley, and later studied the acting methods of Lee Strassberg in Hollywood. He also taught piano to children and performed mime in short pieces to help make ends meet in his late teens and early twenties.Between the ages of 20-28 Alli wrote eight plays in the San Francisco-Berkeley area which he produced and directed and sometimes, acted in.


At age 22, Alli had what he described as an "out of body" experience which "changed the way he looked at the world" and was a defining influence in his life. One of his productions was the dramatic two-act 1983 production, "Chapel Perilous" about a non-stop, catastrophic romance. Others were a "psychic soap opera" called "As the Worm Turns" and a medieval mystery play, "The Conjunction". His theatrical creations "have explored mysticism of various types, including psychological dramas in a mystical context." He also deals with the way dreams act on a person's conscious life (the stuff of surrealism).

After venturing into film work in 1991, Alli still continues to write plays. His latest was the 1999 two-act "Hungry Ghosts of Albion", performed at the Noh Theater in San Francisco. This is a dream play and has the ghosts of William Blake and Isaac Newton shipwrecked on a life raft together. It's an intermedia production which features stage drama, video, live music and dance. When Alli isn't producing plays or films, he works for a living as an astrologer, and has written a book "Astrologik--The Oracular Art of Astrology".
OTHER FILMS


Another feature film of Alli's is "THE DRIVETIME" (1995, 83:00) which he made while living in Seattle. It involves a time-traveling federal librarian who returns from 2023 to Seattle circa 1999 to get video footage of police riots in a stream-of-consciousness cyber-fi videofilm. (This reminds me slightly of the recently discontinued Fox network futuristic sci-fi series "Dark Angel" which occured in a post-apocalyptic Seattle.) Ironically, this film was made four years before the late-1999 WTO-connected street battles which broke out in Seattle. "THE ORACLE " (1993-70:00) features Pablo Neruda's "Book of Questions", where an aged cynic sleeps through his last day on earth and in his dreams is guided by his young grandaughter through a glimpse of an afterlife.

Alli has also produced a series of short featurettes of varying lengths, including a 44-minute 1991 "REQUIEM FOR A FRIEND" , a videopoem/docudrama with text by poet Rainer Maria Rilke and the entirely improvised, "ROADKILL" (2001; 27:00) about two artist couples' relationship struggles. A series of numerous shorts under 10 minutes he calls "videopoems" featuring text of Rilke again, Arthur Rimbaud, Tristan Tzara, Sylvia Plath, and Pablo Neruda. Seeing more of his works could well reveal many heretofore largely unknown gems to mark the veritable flood of ingenious ideas that Alli translates into his work. We certainly wish him every success in the world in all of his creative projects.
---
ANTERO ALLI -- FILMOGRAPHY
Completed works since 1990 plus reviews
SYLVI ALLI -- BIO & MUSIC LINKS
Artistic background and music CDs
VERTICAL POOL SITE MAP
An intermedia production company