VIDEO DOCUMENTS
Directed & produced by Antero Alli
(1991-2018)


---
Since 1977, I have been developing a paratheatre medum combining methods of physical theatre, dance, Zazen meditation, and voice/song to access and express the internal landscape. The following nine video documents present this paratheatrical work in 1) private, non-performance ritual Labs ("Archaic Community" in 1991; CRUX" in 1999; "dreambody/earthbody" in 2012) and 2) public performance rituals ("Orphans of Delirium" in 2004, "A Turbulence of Muses" in 2016, "Bardoville", "Soror Mystica" in 2017 and "Fallen Monsters" and "Escape from Chapel Perious" in 2018). - Antero

---

"Escape from Chapel Perilous"
(2018; 59 min.)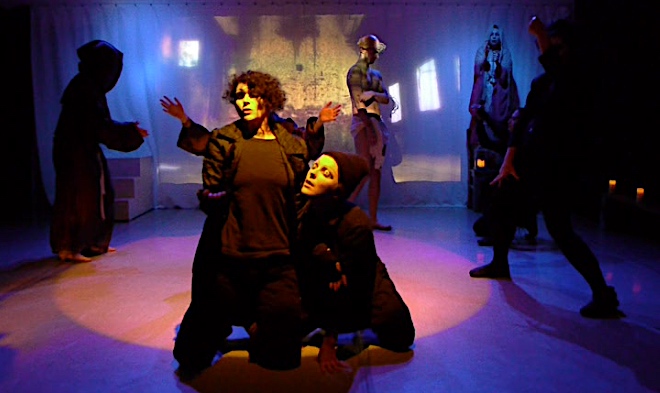 Click image for project details

"Escape from Chapel Perilous" Poetry by Sylvia Plath

Chapel Perilous, a dimension beyond the time/space continuum where living souls leave their physical bodies, as in dreams, performing rituals of obsession until returning to human embodiment. Meanwhile, two wayward monks wander into the Chapel to hear Father Timeless deliver his sermons (the poems of Sylvia Plath) to the newly arrived congregation of lost souls (the audience). The intent, as with all our paratheatrical performances, was to incite spiritual and visceral resonances in the audience beyond comprehension of linear narrative. With live vocals by Sylvi Alli as "Mad Mary". I shot and edited the projected filmn sequences and improvised electric guitar on site. - Antero Alli

---> WATCH THIS VIDEO IN ITS ENTIRETY

NOT AVAILABLE ON DVD

---
"Fallen Monsters"
(2018; 64 min.)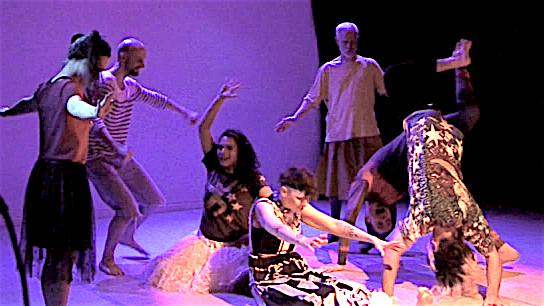 Click image for project details

"Fallen Monsters" Poetry by William Blake

Our musical director Sylvi Alli developed melodies for six poems from William Blake's "Songs of Innocence & Experience" . I edited a film collage of Blake's visionary paintings to project onscreen while Sylvi performs the six songs. In the performance, I portray "The Voice", delivering a series of self-negating messages we've all heard from parents, teachers, schoolyard bullies, the workplace, the world. The monster masks in the final ritual were inspired by how the performers perceived Adult Monsters in our childhood. "FALLEN MONSTERS" celebrates the resiliency of the Creative Spirit, in Blake, in children and all committed artists, to survive trauma and any attempts to oppress the joy of creation. - Antero Alli

---> WATCH THIS VIDEO IN ITS ENTIRETY

VISION STATEMENT
how this performance came about

NOT AVAILABLE ON DVD

---
"Soror Mystica"
(2017; 44 min.)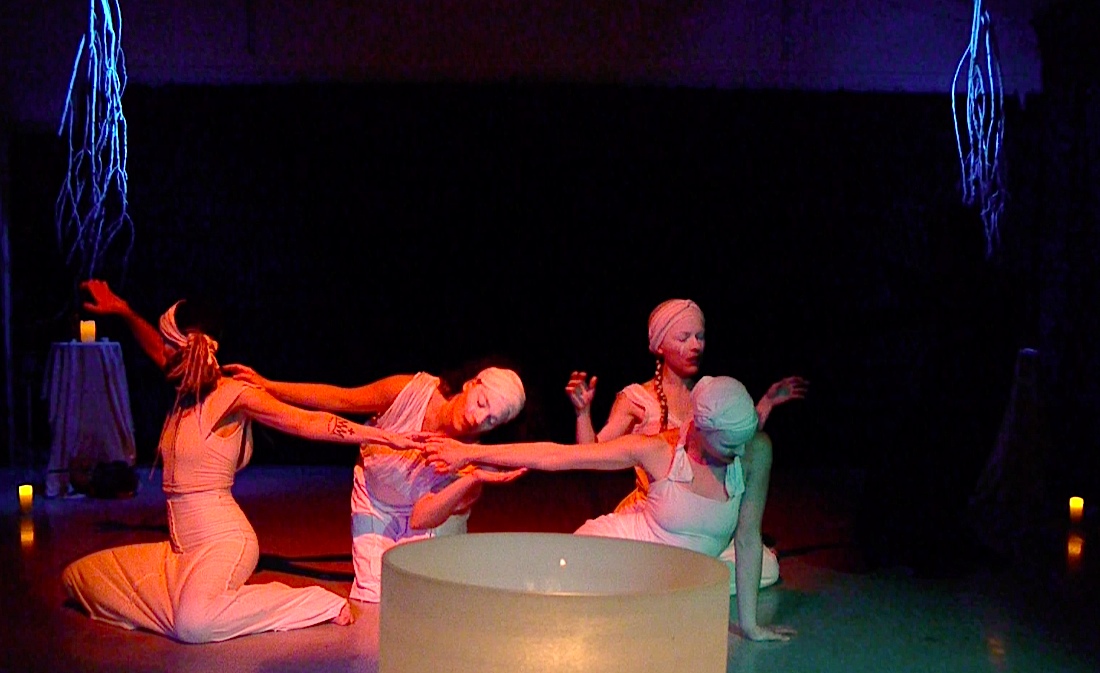 Click image for project details

"Soror Mystica" Poetry by HD (Hilda Doolittle)

"SOROR MYSTICA follows the transmutation of the alchemist through the (inter)action of the four elements—each endowed with their own agency, each enacting their own rituals, not subservient to the alchemist but welcoming him into their temple—and the masked shadow man who dwells at the threshold and drives the querent's transfiguration. All this further fractures the frame, because we see these people both as actors enacting a rite and as the incorporeal substances and energies which they are embodying. The miraculous thing about all of this is the performers are openly working for their own benefit." - Matthew Andrews, Oregon Artswatch.
---> WATCH THIS VIDEO IN ITS ENTIRETY

VISION STATEMENT
how this performance came about

NOT AVAILABLE ON DVD

---

"Bardoville"
(2017; 42 min.)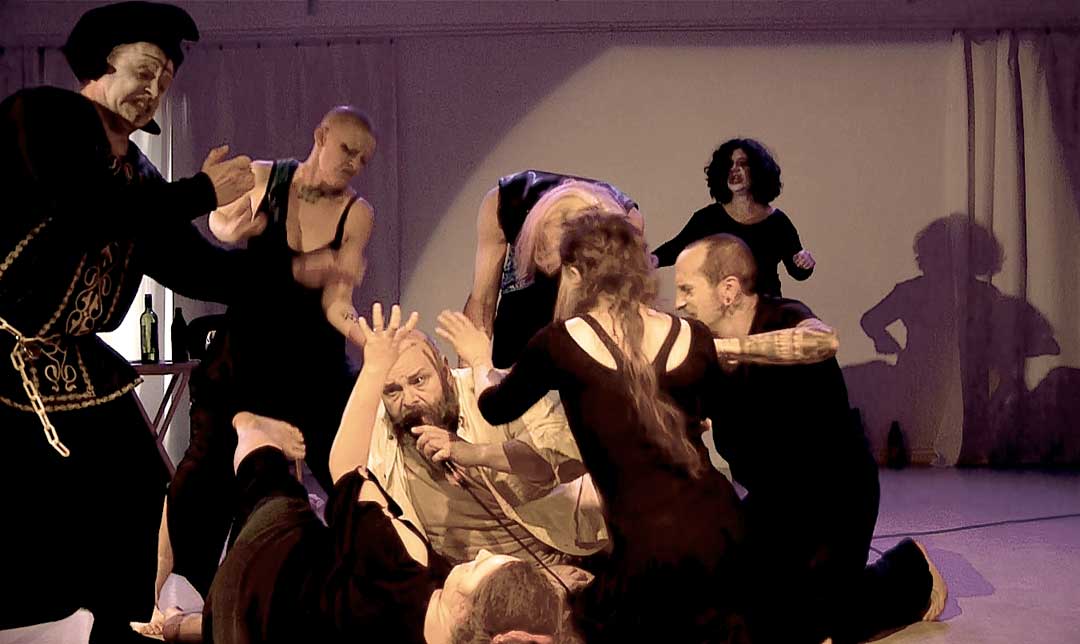 Click image for project details

"Bardoville" Poetry by Charles Bukowski

"With ritual design/theatrical direction by Antero Alli, Bardoville displays elements of classical tragedy/drama such as confrontation/conflict/resolution. The flow from scene to scene retained a narrative integrity around which each character acts and reacts like jazz soloists departing and returning to a melodic structure and interactive core. Sylvi Alli crafted the musical and aural accompaniment with her highly flexible and colorfully timbred chorus (E.V.E.) to accentuate Bukowski's poetic peculiarities." - from the review by Mitch Ritter, Oregon ArtsWatch.
---> WATCH THIS VIDEO IN ITS ENTIRETY

VISION STATEMENT
how this performance came about

NOT AVAILABLE ON DVD

---
"A Turbulence of Muses"
(2016; 39 min.)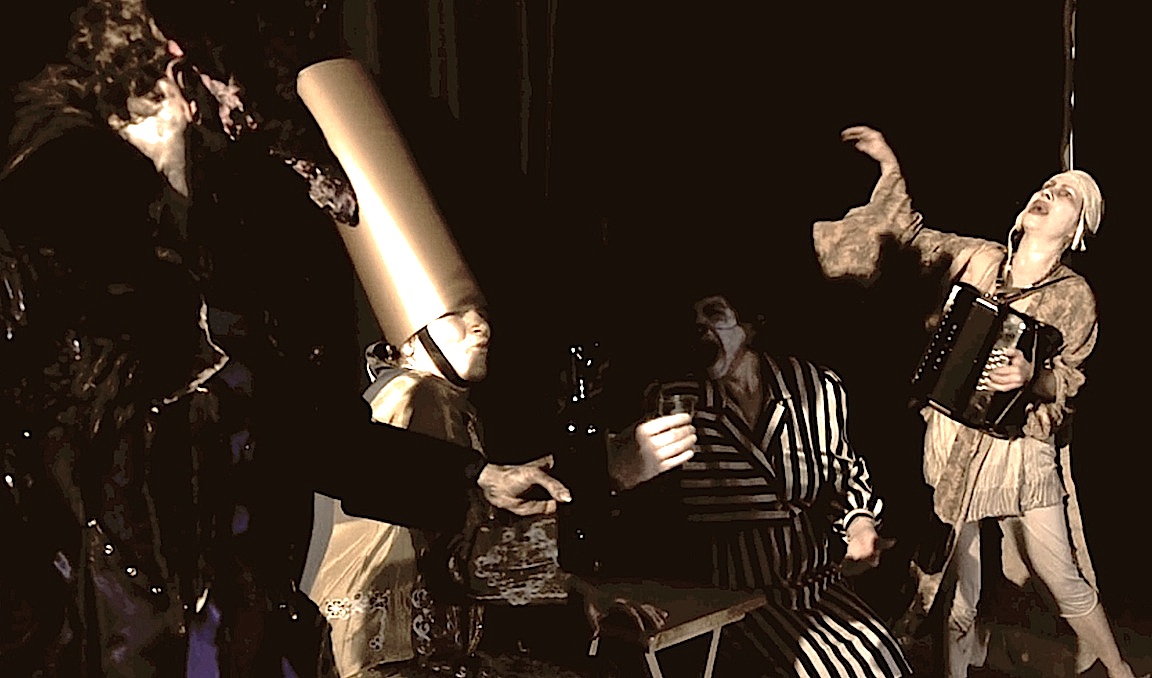 Click image for project details

"A Turbulence of Muses" Poetry by Arthur Rimbaud

A symbolist ritual for eight performers, each representing a different aspect of one entity -- the poet Arthur Rimbaud -- undergoing a systematic disorganization of all the senses towards the creation of poetry. After I scripted the initial ritual design, the production was further developed with the cast over ten Sunday nights until it came to fruition for the first time before a live audience on December 2, 3, & 4, 2016 at Performance Work NW, in Portland OR where this document was filmed. - Antero Alli

---> WATCH THIS VIDEO IN ITS ENTIRETY

VISION STATEMENT
Antero Alli on the process behind the performance

---
"dreambody/earthbody"
(2012; 80 min.)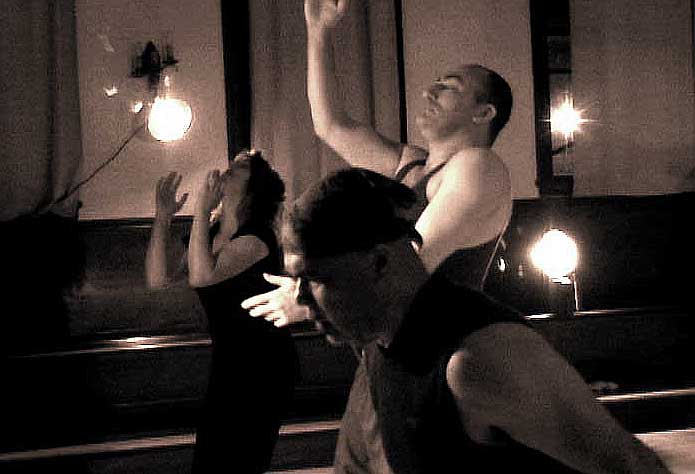 Click image for more project details

"Dreambody/Earthbody" Written by Antero Alli

Seven individuals apply paratheatre methods in a ritual choreography created from movements recalled from their nocturnal dreams. This process bypasses dream analysis in favor of tapping the Unconscious as a wellspring of creative force unleashed in patterns of motion, form, presence, and sound. The video also features the group demonstrating a series of paratheatre methods alongside participant interviews, dramatic re-enactments of my own dreams, and a lush musical score by Sylvi Alli, who also appears as "Naiad, a dreamtime entity". - Antero Alli

"Alli's technique involves using the body as a resource, and his work follows from the premise that deep knowledge of human culture and history can also be found by listening deeply to our muscles, bones, and by fully inhabiting our physical selves. It is remarkable how using movements remembered from dreams seems to unleash powerful memories and feelings from the unconscious." - David Finkelstein (from from his 4-star review for filmthreat.com)

---> WATCH THIS VIDEO IN ITS ENTIRETY

ALSO AVAILABLE ON DVD:
If you'd like to own a dvd of this video document, send $20. (within the U.S.A)
or $30 (overseas) to: verticalsource@gmail.com Please include the dvd title and
your return address. Postage included for all orders. For NON-PAYPAL payment
inquire at verticalsource@gmail.com

PARATHEATRICAL DREAMING RITUAL
Source material for this documentary

"DREAMBODY/EARTHBODY": Interview with Antero Alli
by Isabel Fondevila for A.T.A. (January 14, 2013)