a prayer to the gods of the end of the world
by Antero Alli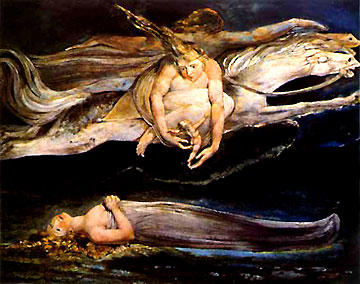 O GOD OF THE END OF THE WORLD,
I am afraid to take you seriously; tell me you're only kidding,
blow my cover to expose my true feelings, make me laugh
at death without forgetting my mortality.

O GODDESS OF BEAUTY IS BETTER THAN TRUTH,
I am embarrassed by my need to be right all the time. Send me
your most gorgeous dropdead image, the Mother of All Visions,
the vision that outgrows and destroys all other visions including itself,
so I can see through myself when I am lying.

O WRATHFUL DEITIES OF DOOMSAYING EVANGELICALS
& THE TEN THOUSAND DOGMATIC LITTLE BIGOTS,
I am bored to tears with my intolerances. Grant me the enchantment
to be entertained by the hidden pixie agendas behind all dreary,
dismal grey-faced warnings so I can stop taking myself
more seriously than the life I am actually living.

O DEMIGOD OF POETIC TERRORISM,
I am utterly and royally confused. Make me go crazy
in the name of Creation, not Destruction, so I may freely sabotage
the literalist virus immobilizing my imagination and learn to incite riots
in the minds asleep to your splendor and glory.

O GODS & GODDESSES OF EVERYBODY'S HOLY GUARDIAN ANGEL,
I am fucked up beyond all recognition. Trick me into not knowing
whether I am really a good person or really a bad person. Give me
the wisdom to never believe my own PR and what other people
think of me, no matter how much money they pay me. Deepen my
gratitude for being a nobody in an UnWorld of wannabe somebodies
and hungry ghosts, so I can be touched in the head by your benevolence
and tell your truths without wanting the credit.

AHMEN & AH-WOMEN.