---
ANTERO ALLI
(b. 11/11/1952; Helsinki, Finland)
filmography (since 1991) -- vision statement
All works written, directed, edited & produced by Antero Alli (unless otherwise noted)
(DV = digital video; "videofilms" combine various video and film formats)
*incorporating music &/or soundtrack by SYLVI ALLI

NOTE: All underlined titles and IMAGES are LINKS to: reviews, pix, screenings &/or synopsis

---
FEATURE-LENGTH WORKS
(70 minutes or longer)
*HYSTERIA (Spring, 2002)
a DV narrative fiction (currently in production)
*TRAGOS (2000/01; 116:00)
a DV narrative fiction; produced w/Sylvi Alli and edited w/Chris Odell
(new) REASON Magazine on Alli and "TRAGOS"
Filmmaker profile by Jesse Walker (Sept. 2001)
*CRUX (1999; 82:00)
a DV document on Alli's "paratheatrical rituals"; co-scripted w/participants
*THE DRIVETIME (1995; 88:00)
experimental narrative videofilm; produced/written w/Rob Brezsny; edited w/J. Comerford
*THE ORACLE (1993; 70:00)
a narrative fiction videofilm integrating Pablo Neruda's "Book of Questions"
*ARCHAIC COMMUNITY (1992; 85:00)
an experimental video document about "how rituals work without dogma"
---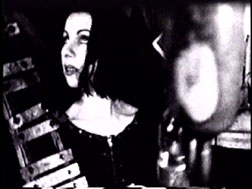 "LILY IN LIMBO" (1996/2001; 27:00)

S.F. Bay Area Screenings
upcoming premieres, showcases and exhibitions
BOOKING INFORMATION
For Event Producers
FUTURE SCREENINGS E-MAIL LIST
To be notified of screenings, write "Vertical List" in subject line

---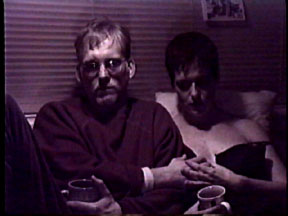 "INERTIA" (1994/2002; 21:00) (new)
FEATURETTES
(20 to 60 minutes)
*ROADKILL (2001; 27:00)
an experimental DV narrative ; edited w/Andrew Damon; dialogue improvised
(new) *LILY IN LIMBO (1996/2001; 27:00)
an experimental videofilm; produced & edited w/Sylvi; text by H.D. and A. Alli
(new) *INERTIA (1994/2002; 21:00)
an experimental narrative video; scripted w/ the actors
*REQUIEM FOR A FRIEND (1991; 44:00)
a videopoem/docudrama; text by Rainer Maria Rilke; edited w/John Comerford

---
"...blazingly personal...the organically seething images of Alli's videopoems..."
Kelly Vance, EAST BAY EXPRESS
SHORTS (aka "Loaded Visions")
(under 10 minutes)
(new) *FEARS (8:30; 2001) text by Rainer Maria Rilke; videopoem
(new) *MOUVEMENT (4:00; 2001) text by Arthur Rimbaud; videopoem
*FAIRY (4:00; 2000) text by Arthur Rimbaud; videopoem
ANTI-PHILOSOPHER (4:00; 1999) text by Tristan Tzara; videopoem
WITCH BURNING (4:00; 1998) text by Sylvia Plath; videopoem
SOME PASS THIS WAY (8:00; 1995) text by Sean Blosl; experimental video
*COLD FORCE (6:00; 1994); experimental narrative video
THE WORD, WEIRD (6:00; 1994); a video lecture
*BOOK OF QUESTIONS (6:00; 1993) text by Pablo Neruda; videopoem
BOMBS & PRAYERS (6:00; 1993/96) text by Rob Brezsny; videopoem
*SKIN OF BIRCH (5:00; 1992) text by Pablo Neruda; videopoem
BLACK SEA (4:00; 1992); a lament for Zoe; videopoem
D.U.I. (8:00; 1992); experimental narrative video

"My vidoepoems are experimental shorts using poetry as oblique narrative (rather
than recital) to tell stories or invoke spirits dwelling in the text itself."
ANTERO ALLI
---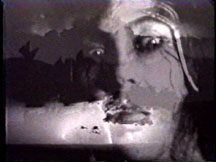 (new) "MOUVEMENT" (2001; 4:00)
Vision Statement
by ANTERO ALLI
So far, my videofilms are made for exhibition only (big screen projection) and
for several reasons. I believe in the asocial ritual of cinema: a group of strangers
gathering in a large, cavernous space to witness visions, seen through a window
into another time, another place. In this way, we all undergo a kind of psychic
journey together while remaining very much alone. And in this solitude, our very
perception shifts and turns this way and that; sometimes altered and once
in a blue moon, transformed. Certain films can even change your life.
Filmmakers who alter my perception:
TARKOVSKY, BRESSON, HERZOG, CASAVETTES, COCTEAU,
FELLINI, JODOROWSKY, WENDERS, GREENAWAY, LYNCH.

Aesthetically, I develop my work (visually, linguistically, musically) to be
seen and heard on the big screen with big audio speakers; that's the way
they're meant to be experienced. I have no big ambitions to see my work
mass-replicated for small screen viewing via video, DVD or worse yet, internet
streaming; picture millions of viewers, home alone, transfixed to computer
and TV monitors: a corruption of the ritual of cinema as I know it, a rite that
demands that people get out of the house! The only way to see my work is
when someone books them or when I'm producing my own shows or touring
through Seattle (911 Media Arts), Portland (NW Film Forum, Clinton Street
Theater, Hollywood Theater), Berkeley (Fine Arts Cinema, PFA) and
San Francisco (CELLspace, Venue 9 & others); I avoid Los Angeles.
My bottomline: making the movie I have to make and sharing that vision
with whoever's in the cavern when it happens. This is where and when
I experience the joy and the dread of discovering the extent I may, or
may not, be reaching people; communication playing a major role in all of
this. As for "success", that's subjective. Money, when it's around, is nice;
it affords new gear and greases the publicity machines. As for fame,
a useful illusion at best; at worst, a plague upon the soul.
---
More Than You'll Ever Need To Know About Antero
The FILM THREAT Interview
with Phil Hall; March 2000
NOMAD VIDEOFILM FESTIVAL
founder; west coast touring fest (since 1992)
ParaTheatrical ReSearch
director/ritualist (since 1977)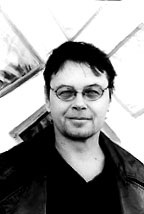 click for hi-rez image
BIO
theatre background (1975 to present); author
---
E-MAIL
voicemail: (510) 464-4640
PO Box 7518 Berkeley CA 94707 USA

---