---
TRAGOS -- BACK STORIES
---
The Dark Art of Writing
For me, the process of making a movie is a continual response to something I initially perceive and over time, become haunted and obsessed by. From these agitations there eventually emerges a redeeming compulsion to share that experience, with all its incumbent conflicts and releases, with the world; I feel saved when my vision reaches people. For many years before actually writing and producing TRAGOS, I felt inundated by a series of harrowing perceptions of a cultural nightmare in western society:


the significantly diminishing capacity for direct experience in its people
from over-saturation of mass media technology and internet addiction.


As I began writing the screenplay in early 2000, George W. Bush announced his presidential campaign. I thought to myself: omigod, what if he wins ?! I decided to steep my story in a sociopolitical climate simulating what I imagined was George W.'s ideal world; not my world but his. The story took off and almost finished itself. And then, GW Bush was selected by the Supreme Court as president of the United States of America. OK, I thought, life mirrors art. And then the 9/11 terrorist attacks, "Homeland Security" legislations and all of a sudden (maybe not so suddenly) TRAGOS' futuristic noir vision is looking less like a movie and more like real life. The future I once imagined is now here and I don't know if that's a good thing or bad thing yet.




The Tangled Roots of Tragos
As with every feature project I take on, TRAGOS was made because I needed to immerse myself in a mystery, an archetype vibrating with numinous power and unfathomable origins. If I know too much, it's not worth doing. This spirit of discovery justifies the massive investment of time, energy, and money it takes to finish such a project. With TRAGOS it was time to approach the mystery of tragedy in general, and the scapegoat complex in particular. The very word "tragos", an etymological root for tragedy, means "goatsong" -- hear the bleating goat approaching its imminent sacrifice -- and refers to those ancient pagan rituals where the goat-man-god was sacrificed to the earth-mother-goddess; the word, "satire" comes from satyr, the goat-man-god. Tragos also means "to drink" in Spanish.


Having experienced real tragedy firsthand (sudden death of my child, my mother's chronic schitzophrenia), I felt ready to write from real life. What surprised me in the scripting process was how often the comic elements would unexpectedly surface alongside the tragic, as if they were only separated at birth. My planned scapegoat character was an unemployed actor impersonating a detective to land the lead role in a Woody Allen film. I say "planned" because his fate had other plans for him. I was also struck by an unforeseen empathy I felt for the fundamentalist Christian attorney and his confidant, the Priest. This feeling created an valuable inhibition toa kneejerk reflex to satirize them or make them look stupid.


The group rituals in this movie's Virtual Reality sequences developed over several months of intense group paratheatre experiments that were later married to the CGI work of FX artist, Michael McWhirter of Austin Texas (this group ritual process has been in heavy development since 1977; visit www.paratheatrical.com. My research results have been organized in my book, "Towards an Archeology of the Soul" (Vertical Pool Publishing, 2003).




The Set: Underground San Francisco 2012


Captain Slobodan Dan Paich and his magnificent Artship dream


The "underground San Francisco 2012" location (where all the tribal VR rituals took place) was set inside the cargo hull of a 500-foot former World War Two military hospital ship. A ghost ship. Between 1999 an 2003, this massive vessel was reclaimed by Artship Foundation and its magnanimous director, Slobodan Dan Paich (who also plays the night watchman in Tragos), a great man guided by a great dream. While docked in the Port of Oakland, Paich and his resourceful crew of artists and helpers worked day and night to transform the war ship into a cultural center, a multi-tiered art gallery and theatre; hence, its rechristening, "Artship". Many memorable events occurred there, including the shooting of pivotal scenes for my 2003 feature, "Under a Shipwrecked Moon". Unfortunately the Artship project collapsed by early 2004 due to a serious lack of matching community funds and the ship was broken down to scrap metal. (click above images for details)


The Mellifluous Soundtrack
For me, the sounds and the music share equal importance to the image in the filmmaking process and sometimes more. Long before I start shooting scenes I am listening to music -- all kinds of music -- to get a feel for the emotional tone of the story and the place it inhabits. Sometimes I will write an entire scene around a song or melody that was already recorded by my partner, Sylvi, or someone else (I prefer local music talent). With "Tragos" I was looking for a quality of inspired lament, one of Sylvi's fortes. As with most of my film and theatre works since 1989, Sylvi scored the lion's share of the "Tragos" soundtrack with her beautiful vocals and eloquent arrangements. Like all great music, hers bring my films to life.


Tech Specs
TRAGOS was shot on mini-DV and mastered onto DVCAM. The principal camera used was the Canon XL-1 (w. wide angle lens) with cutaways shot on its little brother, the Canon GL-1. All the footage (except the mediabytes and VR sequences) were desaturated 93% for a warm Black&White. I've been tinkering with this movie since its first cut in 2000 (final cut: 12/2004; 106:00). The editing occured on Final Cut Pro 2, 3 and 4. The final director's cut is 12 minutes shorter than the first cut and includes additional VR FX sequences by Michael McWhirter. The final cost of producing TRAGOS (including feeding everybody, paying principal actors, renting gear, editing, etc) was about $7000. Since its premiere in 2000, TRAGOS has screened in one-night stands in west coast arthouses (Seattle, Portland, SF) and is now available on DVD.


Antero Alli, writer/director


TRAGOS Cast & Crew
the credit list


BEYOND MIRAMAX
REASON MAGAZINE ON "TRAGOS"
---

SCREENING HISTORY

---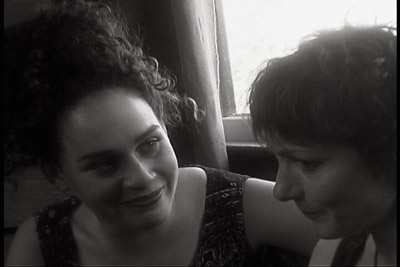 Lea Bender and Barbara Jaspersen


MARCH 2018. PORTLAND OR.
CLINTON STREET THEATER

JUNE 2012. SAN FRANCISCO.
THE LOST CHURCH

MAY 2008. OAKLAND.
HUMANIST HALL

MARCH 4, 2005. PORTLAND.
HOLLYWOOD THEATRE

FEBRUARY 25, 2005. SEATTLE.
911 MEDIA ARTS CENTER

JANUARY 27, 2005. OAKLAND
21 GRAND

NOVEMBER 22, 2002. BERKELEY
TUVA SPACE

JUNE 1, 2002. PHILADELPHIA
LOST FILM FESTIVAL @ The ROTUNDA

NOVEMBER 8, 2001. SAN FRANCISCO
CELLSPACE

JUNE 28, 2001. PORTLAND
CLINTON STREET THEATER

JUNE 23, 2001. SEATTLE
911 MEDIA ARTS CENTER

JUNE 2, 2001. BERKELEY
FINE ARTS CINEMA

MARCH 15/16, 2001. SAN FRANCISCO
VENUE 9

MARCH 8, 2001. BERKELEY
LIVE OAK THEATER

FEBRUARY 1, 2001. SAN FRANCISCO
CELLSPACE

NOVEMBER 10, 2000. BERKELEY (premiere)
FINE ARTS CINEMA

SEPTEMBER 16, 2000. PORT OF OAKLAND (preview)
ARTSHIP

FILMOGRAPHY and VISION STATEMENT