Antero Alli's VideoPoems
BY KELLY VANCE FOR THE EAST BAY EXPRESS
from the week of Wednesday October 17, 2001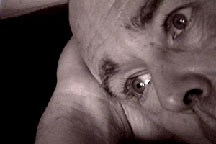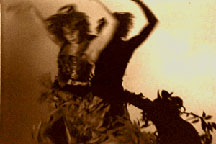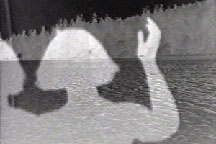 "Fears" (text, Rilke), "Fairy" (text, Rimbaud) and "Black Sea" (text, Alli)

Antero Alli is the very portrait of an experimental filmmaker. From his soft-spoken intensity in person to the organically seething images of his "videopoems," the Helsinki-born, Berkeley-based artist comes across as a restless seeker. " My pictures don't have any commercial ambitions," declares Alli. "I don't make them for wide theatrical release. I wouldn't be able to afford it. I rarely screen at fests, and in fact this is the first time I've shown the shorts as a group. I don't have any idea of how they'll be received. I'm curious to see what the reaction is." Singer Sylvi Alli -- whose aptly titled CD Too Near the Ghosts is of a piece with her husband's films -- also appears in Lily in Limbo (1996/99), in which a housebound woman's anxieties eventually erupt in a Freudian riot of colorful blossoms and lava flows.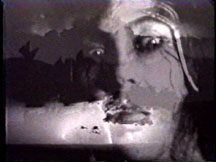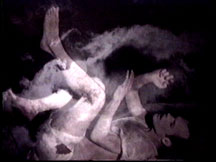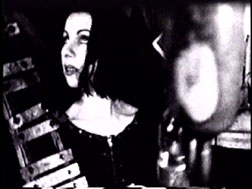 "Mouvement" (text, Rimbaud), "Witch Burning " (text, Sylvia Plath) and "Lily in Limbo" (text, H.D.)

"Loaded Visions" gangs together eight videos, most no longer than nine minutes, from Alli's blazingly personal oeuvre. The Skin of Birch (1992) glories in romantic love -- personified by Alli's old flame Camille Hildebrandt, a vision in white lace -- and is set to lines by Pablo Neruda. In Bombs & Prayers (1993), the mantra-like text by Rob Brezsny flies over sampled feature-film footage of aerial bombardment. Anti-Philosopher (1999) uses a Dadaist poem by Tristan Tzara to conjure up a sailing ship captained by a comically mustachioed Sylvi Alli (the filmmaker's wife and collaborator). All are miniature psychodramas with interior monologues in voiceover, heavy on the angst. "I made these films to stay in touch with my poetic roots," Alli says.
---
ANTERO ALLI, FILMOGRAPHY and SYLVI ALLI, MUSIC