---
~ NEW RELEASE! ~
"SACRED RITES"
Journal Entries of a Gnostic Heretic
ORIGINAL FALCON PRESS
(Limited supply of signed copies available from the author)

---
Few have done as much as Antero Alli to explore the
human condition in all its complexity, glory, and folly,
through practical work with its archetypes and
mythology in ritual and psychodrama.
- Peter J. Carroll, Liber Null & Psychonaut


Alli's interior observations hide within them a map
to the work he has been doing for some forty years.
It's all here. How to conjure and embody visions and
insights through the use of archetypes. There's howling,
weeping, gnashing of teeth. It's not a cool cerebral picture.
SACRED RITES will leave you wanting more. Read the book.
-from the review by R.U. Sirius, Mondo 2000

(2023; 217 pages. Paperback. With photographic art by Antero Alli. Preface by Geri De Stefano-Webre, PhD. $19.95) SACRED RITES documents the author's personal experiences with the transformative ritual medium of Paratheatre he has developed since 1977. Through his private ritual journals written over eleven years (2000-2011), Alli bypasses historical definitions of ritual beyond the costumed spectacles of the robes and wands of Western occult ceremonial magick, the archaic history of pagan nature rites and, the somber pomp of the Catholic High Mass with its wafers, cheap wine, and sermons chanted in the dead language of Latin. This is not a "how-to" book on ritual-making but a deep dive into the archetypal experiences, images, characters and stories erupting from the inner depths of those participating. Also featuring ritual journal entries of a dozen individuals who trained with Antero plus his notes on how this work inspired elements in many of his feature art films. SACRED RITES is a companion book to STATE OF EMERGENCE: Experiments in Group Ritual Dynamics (Original Falcon Press; 2020). Cick book image above to read an excerpt.

TABLE OF CONTENTS (with video)

$19.95 Original Falcon Press

Limited Supply of AUTHOR SIGNED COPIES AVAILABLE!
Send PayPal payment to: verticalsource@gmail.com
SHIPPED WITHIN THE USA $25 (inc. Priority Mail) OVERSEAS shipping, add $25. per book
Note: in PayPal, send as "Friends & Family". Include email, mailing address, book title

---
NEW --> "LAST WORDS" <--- NEW
Towards an Insurrection of the Poetic Imagination
ORIGINAL FALCON PRESS

---
I've felt my soul enlightened and calmed by this beautifully composed
and sequenced collection of meditations and revelations, this philosophical
chronicle of tears and joys. What's more, I've felt myself an active participant
in its poems, which embody the daily journey toward insurrection; that is,
authenticity, and conscious spurning of the 'mass media waterboarding of
the collective psyche. ~ William O'Daly, author of The New Gods
and translator of Pablo Neruda's Book of Twilight

LAST WORDS (2023; 149 pages. Paperback; third edition. Photographic art by Sylvi Alli. $16.95) The author's searingly personal memoir of transforming his real life losses and traumas through poetry, cinema, ritual theatre, and his relationships with women. Topics include The Clouds of Unknowing, Vertical Integrity, Amor Fati, Cinema of the Future, Anima Attacks! Reinventing the Romantic, Fine-Tuning Your B.S. Detector, The Self-improvement Scam, The Alchemy of Obsession, Courting the Muses, Frontier Scouts of the Gene Pool, The End of the World as I Want It, and much more. Featuring an AFTERWORD by Sylvi Alli, his artistic collaborator and partner over three decades, on their extraordinary journey together.


$16.95 Original Falcon Press

"LAST WORDS": Review by Erik Davis

---
RECENT --> "EXPERIENTIAL ASTROLOGY" <--- RECENT
From the Map to the Territory
ORIGINAL FALCON PRESS

---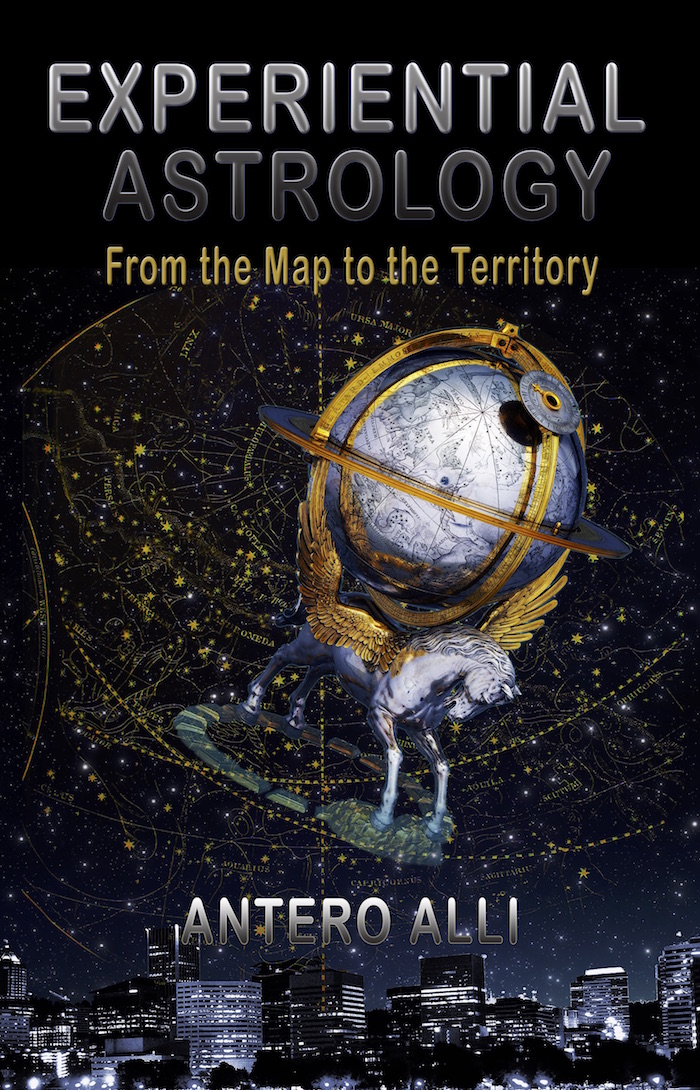 I viewed myself as sort of an intellectual outlaw, seeking to live by a higher code than
the restraining laws of the land. That is, until I met a real outlaw in the form of Antero Alli.
Antero didn't only rebel against the intellectual status quo; he took it farther by stepping
outside the trappings of astrology, itself. - from the Preface by Rick Merlin Levine

In Experiential Astrology, Alli offers a view freed from
the confining, overly literal tone that haunts some sectors of
astrological lore. Describing astrology as a language through
which we can experience the planets as living forces, he reframes
astrological topics with his unique approach. - Mary Plumb,
Book Review Editor, THE MOUNTAIN ASTROLOGER

(2022; 228 pages. Paperback. Illustrated. Second edition, 2023. $24.95) Experiential Astrology revisions the horoscope as a map to access and experience the autonomous forces represented by the planetary symbols and the twelve archetypes of the zodiac. By changing the traditional terms of "planets, houses, and signs" to Forces, States, and Styles, the author invites the reader on a journey through the celestial language into the very heart of the human condition. Featuring interpretive techniques culled from over thirty years of astrological study and practice including: The Nodal Axis, the Four Asteroids, Chiron, Transits,Yods, T-squares, Grand Crosses & Grand Trines, Reimagining the Planetary Forces as Sexual Realities & much, much more... click book image for excerpt.


TABLE OF CONTENTS (with video)

$24.95 Original Falcon Press

"EXPERIENTIAL ASTROLOGY" at Amazon; reviewed



---
RECENT ---> "STATE OF EMERGENCE" <--- RECENT
Experiments in Group Ritual Dynamics
ORIGINAL FALCON PRESS
(Limited supply of signed copies available from the author)

---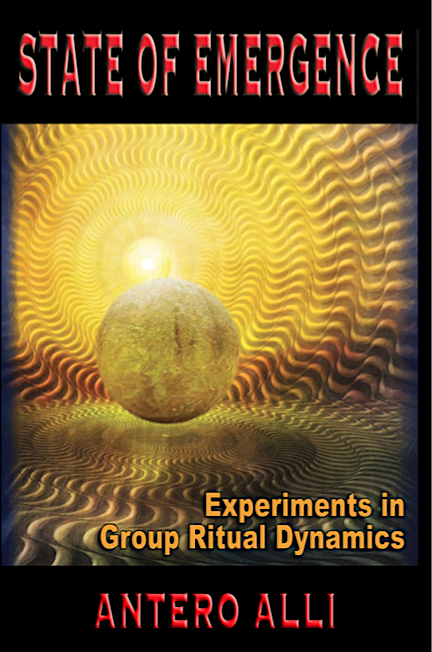 You have put much of what I am about and too lazy to put on paper.
Wonderous feeling of spirituality. And guided by deep consciousness.
A compendium of your wisdom and experiences during your long
commitment to the performing arts. Aware of the dangers of inflation
and self-centeredness that are a part of the path to the invisible. I am
glad to have "The Theater And Its Double", "Towards a Poor Theater"
and "State of Emergence" in my library.
- John O'Keefe, playwright, Project Artaud, San Francisco

(2020; 180 pages. Paperback. Second edition, 2023. Photographs & diagrams. Preface by Jogen Salzberg. $19.95) State of Emergence is a compendium of methods drawn from physical theatre, dance, vocalization and ritual practices to gain access to the internal landscape of impulses, emotions and sensations in the body. This somatic work offers a dynamic visceral interpretation of Carl Jung's "active imagination" for making the Unconscious, conscious in movement, vocalization and action. The dogma-free bias of this ritual technology can be integrated into any ritual, dance, movement or theatre practice in need of greater depth of inner work. Ritual methods include The Five Intentions, No-Form, Conscious Projection, Sourcing, Space Forming, Presence Actions, Boundarywork, Non-directional Jogging, and much more. This book also includes stories from those who have done this work, the author's personal ritual journals, an interview with singer Sylvi Alli on "The Embodied Voice", the Potential Dangers of ritual work and much more.... Click book image for excerpt.


TABLE OF CONTENTS (with VIDEO)

$19.95 Original Falcon Press

Limited Supply of AUTHOR SIGNED COPIES AVAILABLE!
Send PayPal payment to: verticalsource@gmail.com
SHIPPED WITHIN THE USA $25 (inc. Priority Mail) SHIPPED OVERSEAS, add $25. per book
Note: in PayPal, send as "Friends & Family". Include email, mailing address, book title

"STATE OF EMERGENCE" at Amazon; reviewed