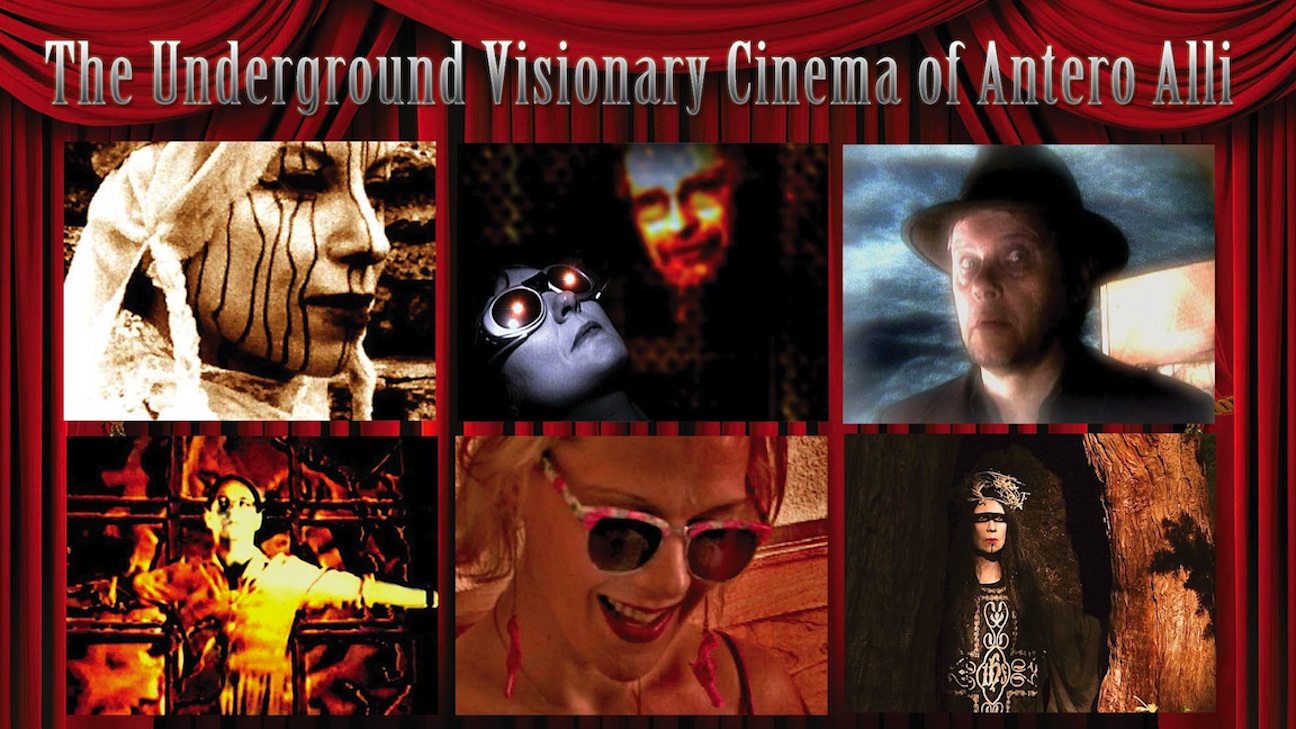 My feature-length art films (since 1995), VideoPoems
(since 1992), Paratheatre video documents (1991-2018)
and Music Videos (since 2017; bird&wolf) are available
for free viewing online by clicking the "viewing link"
in each movie section below. - Antero Alli

Many of these films available on DVD (see bottom of page for details).
CLICK ANY IMAGE BELOW FOR PRODUCTION DETAILS



---
"THE VANISHING FIELD" (2020)

---

FORTHCOMING -- LATE MARCH 2020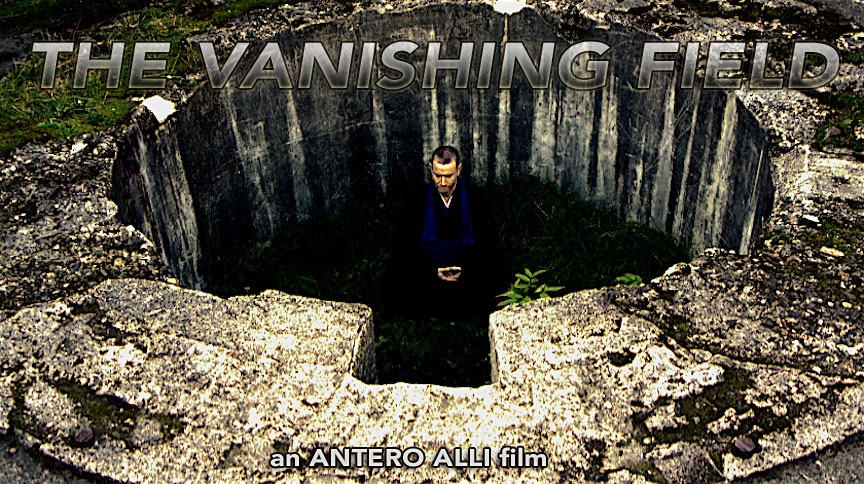 After a Zen monk's meditation practice ignites a spontaneous out of body experience,
he's compelled to explore astral projection and discovers a strange new world fraught
with unexpected complications that shakes the very ground of his being.

"The Vanishing Field" (2020; 72 min.) This film was inspired, in part, by my friend Jogen, a Zen priest who was a resident for fifteen years at the Great Vow Zen Monastery (where most of the film's scenes were shot). In this docufiction movie, Jogen plays the character of Jacob, a novice Zen monk wrestling with the aftermath of a shocking out-of-body experience while meditating. Though this story was set in a Zen Buddhist monastery with Buddhist non-actors, I never intended to make a "Buddhist movie". Instead, I felt ready to share a more personal story informed by my own traumatic out of body experience many years ago. Setting my story in a Zen monastery, as seen through the lens of meditation practice, opened up new ways to convey this life-changing event that continues to impact me and inspire my films to this day. Antero Alli (click image for production details)

3/28 WORLD PREMIERE PUBLIC SCREENING (Portland OR)

---> viewing link available March 29th

THE TRAILER


Not available on dvd.



---
"OUT OF THE WOODS" (2015)

---
"Out of the Woods" (2015; 111 min.) A Magical Realist Drama. A young man returns from a near-death experience with amnesia and a disconcerting new talent that draws him into the strange new world of professional mentalism. Thirty years later, he's discovered by a documentary filmmaker who interviews him about his mysterious past and why he suddenly walked away from fame and fortune. OUT OF THE WOODS is a magical realist drama of one man's journey through haunted dreams and childhood memories to find his one true love. Click images for production details.

"...a haunting, visually engaging, thematically intriguing and dramatically exciting film...beautifully photographed, well-edited, and finely acted... with an enchanting and memorable score composed and sung by Sylvi Alli". - Charles Kruger, flickstorm (3 stars)

>> DVD rental in Portland OR at:
Movie Madness



---
"THE BOOK OF JANE" (2013)

---
"The Book of Jane" (2013; 117 min.) An Urban Fable of Feminine Initiation. Alice, a Professor of Comparative Religion, is writing a book exalting the feminist values of pre-Hellenic goddess mythologies. One day she meets Jane, an enigmatic older woman who roams the university campus, sleeps under a bridge, and rattles Alice with her disturbing insights. Alice's domestic partner Colette is an inspired artist who paints Goddess portraits. When Colette hears about Jane, she persuades Alice to invite her over for dinner. "The Book of Jane" is a story of three women attempting to embody the vision of an ancient culture but at a cost none of them expected. Click images for production details.

"Underground filmmaker Antero Alli touches on subjects that have been part of his prolific canon – transformative rituals, overcoming communication barriers, self-empowerment by means of a reinvented identity – and presents them in a bold and often challenging new drama that raises the cerebral level of filmmaking substantially. "The Book of Jane" provides evidence of the artistic and intellectual power that can be generated through underground filmmaking. It is also one of Alli's crowning achievements." - Phil Hall, filmthreat.com (5 stars)

EXCERPT #1
EXCERPT #2

>> DVD rental in Portland OR at:
Movie Madness



---
"FLAMINGOS" (2012)

---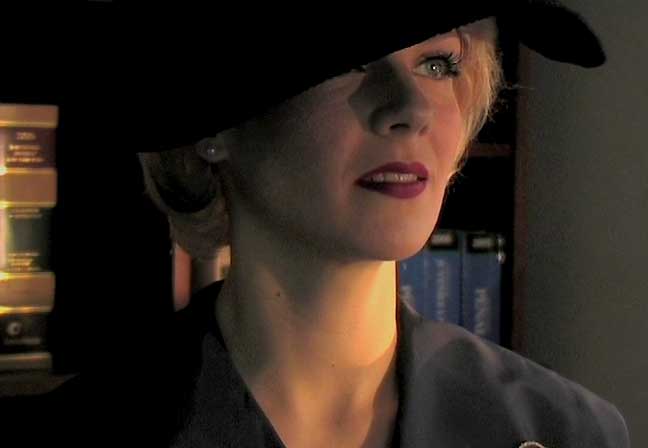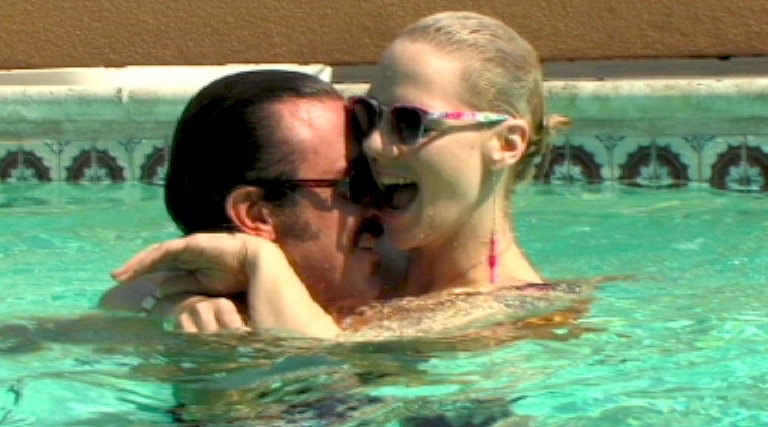 "Flamingos" (2012; 90 min.) An Outlaw Romance Noir. Twin sisters Beatrice and Zoe are in love with Ray, a hypnotist-bank robber obsessed by apocalyptic visions. Though Beatrice and Ray are married, Ray absconds with free spirit Zoe after a bank heist to the Flamingo motel to plot their future together. Meanwhile, two entities from a parallel dimension observe and influence their fates in this heady cocktail chaser of amour fou, crime, and metaphysical mischief. Click images for production details.

"FLAMINGOS is thoroughly remarkable in the way it packs dense, engaging layers of honest emotional and spiritual musings in an extremely constricting framework. The message this seems to convey is that sometimes the most intense spiritual journeys happen when one has nowhere to go." - Mike Everleth, Underground Film Journal

---
"TO DREAM OF FALLING UPWARDS" (2011)

---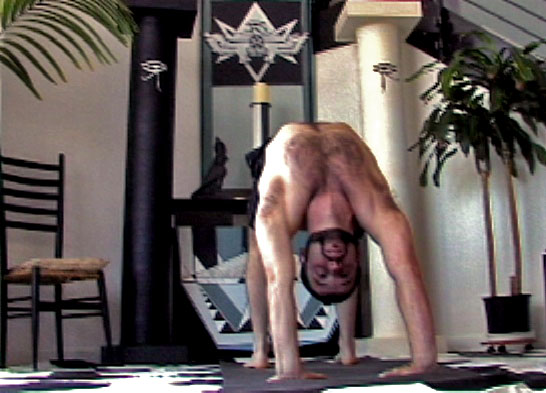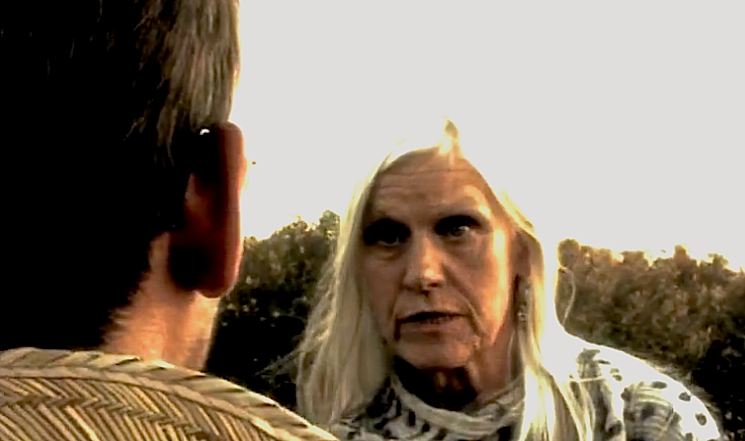 "To Dream of Falling Upwards" (2011; 125 min.) A Zany Occult Murder Mystery. The elder Magus of the Thelemic Temple of Horus is on his deathbed when his biological son fraudulently inherits The Temple. Jack Mason - a promising young sex magickian and rightful heir to the Temple - plots revenge and falls into a maze of underworld encounters with professional psychopaths, desert brujas, and a twist of fate he never saw coming. In the meantime, Jack assigns his two hot-headed apprentices the ego-corrosive ritual of going into business as clowns in this harrowing, hilarious collision between the contrary occult worlds of urban and rural sorcery. Click above images for production details.


"The complex, expertly constructed story involves a struggle for succession, a murder, and a demonic possession. The twists of the story kept me glued to the screen through several viewings; absolutely riveting and the cinematography is gorgeous. A stellar cast, the film's great depth and power will keep you thinking for a very long time." - David Finkelstein for filmthreat.com (4 stars)



Nudity, sexual situations, language, drug use.



---
"THE INVISIBLE FOREST" (2008)

---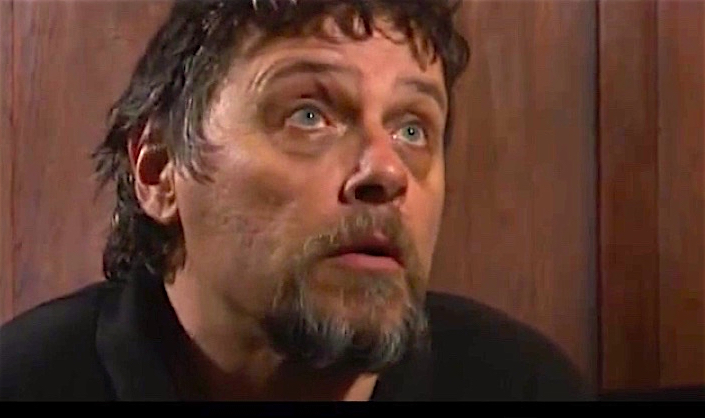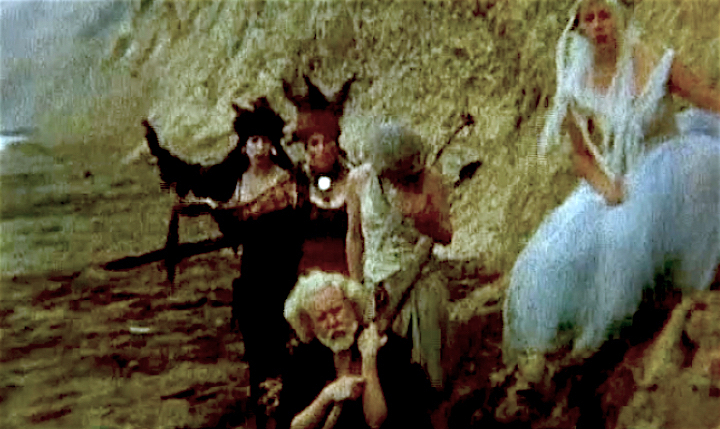 "The Invisible Forest" (2008; 111 min.) A Hypnogogic Drama. Alex, an experimental theatre director (Antero Alli), brings his troupe out to a forest to rehearse his vision of French Surrealist Antonin Artaud's (Clody Cates) magic theatre of ghosts, gods, and demons. But Alex is haunted by disturbing dreams where Artaud appears and mocks his ambitions. In an attempt to stop these dreams, he stays awake for three days. With his sanity finally pushed to its limits, Alex visits a psychotherapist who suggests hypnotic regression to remedy his problem. Alex is guided through the Sunconscious underworld of hallucinations, dreams, and memories to a place beyond belief and maybe beyond the mind itself. Additional text by William Shakesepare and Antonin Artaud. Click images for production details.

"The film was created through improvisations instead of a script and embodies this principle of art-making in its process. It incites and dares the viewer to let go of concepts and accept the risky adventure of following the free, unimpeded energies of the body and mind. Since, in real life, Alli is engaged in paratheatrical research, it becomes obvious that the film's fictional story is constructed out of documentary elements." - David Finkelstein for filmthreat.com (4 stars)

---
"THE MIND IS A LIAR AND A WHORE" (2007)

---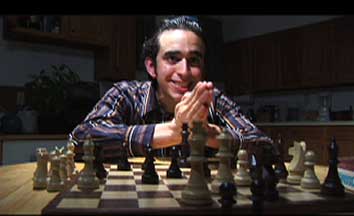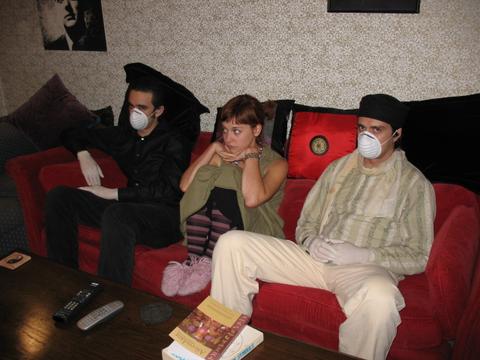 "The Mind is a Liar and a Whore" (2007; 92 min.) An Anxious X-mas Comedy. A typical Berkeley household - a heartbroken Astrologer, a closet Satanist, an Inuit opera singer, a Gulf War vet, and a WebCast diva - are forced indoors during an alleged bioterrorist attack. Ona, a webcast diva with her own show, thinks the Feds are shifting into a fullblown police state. Her roomies think she's paranoid. Havoc and hilarity prevail as they all grasp for conclusions about what they think is happening during an escalating state of uncertainty. Click images for production details.

"Smart dialogue, compassionate and perceptive character writing, a heightened sense of both the comic and dramatic potential of the situation, sharp editing, and nuanced, powerful performances all come together to lift this film from its the "acting class exercise" level (throwing 6 characters together into a dangerous situation) into a film where comedy and drama serve as a means to explore some of the roots of what it means to be human, and live in a dangerous and unpredictable world." - David Finkelstein for filmthreat.com (4 stars)

---
"THE GREATER CIRCULATION" (2005)

---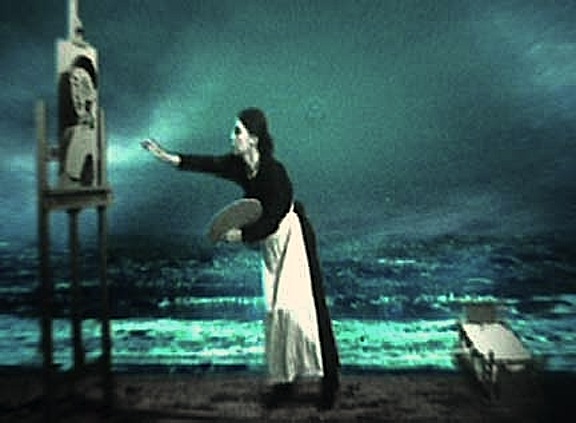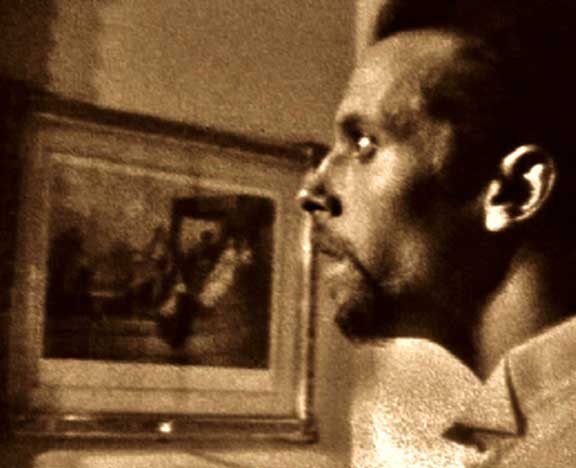 "The Greater Circulation" (2005; 93 min.) A Poetic Docufiction. Over three fever-dream nights in the Hotel Biron, Paris 1908, poet Rainer Maria Rilke encounters the ghost of his friend, artist Paula Modersohn-Becker, who died shortly after birthing her first child. Rilke transforms his grief into "Requiem for a Friend", an epic prose work about women at the crossroads between Art and Motherhood. Meanwhile, a hundred years later, three women prepare to stage Rilke's "Requiem" as an avant garde performance ritual. Requiem for a Friend (included in its entirety throughout the film) written by Rainer Maria Rilke (trans., Stephen Mitchell). Click images for production details.

"…a deep, provocative and often disturbing drama which poses questions of love, art, mortality and grief with the grace and majesty of Rilke's work, "The Greater Circulation" is among Alli's finest works. Anyone seeking lessons on how to create a wholly original work of motion picture genius can start here." - Phil Hall, filmthreat.com (5 stars)

---> viewing link

4 MIN. EXCERPT



---
"UNDER A SHIPWRECKED MOON" (2003)

---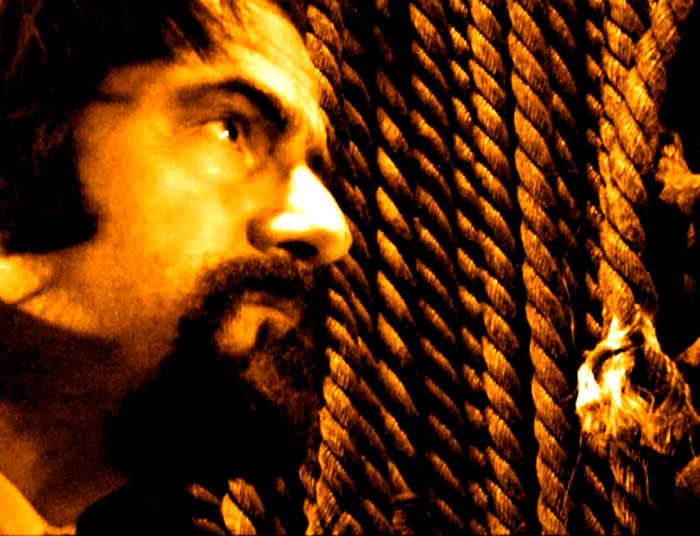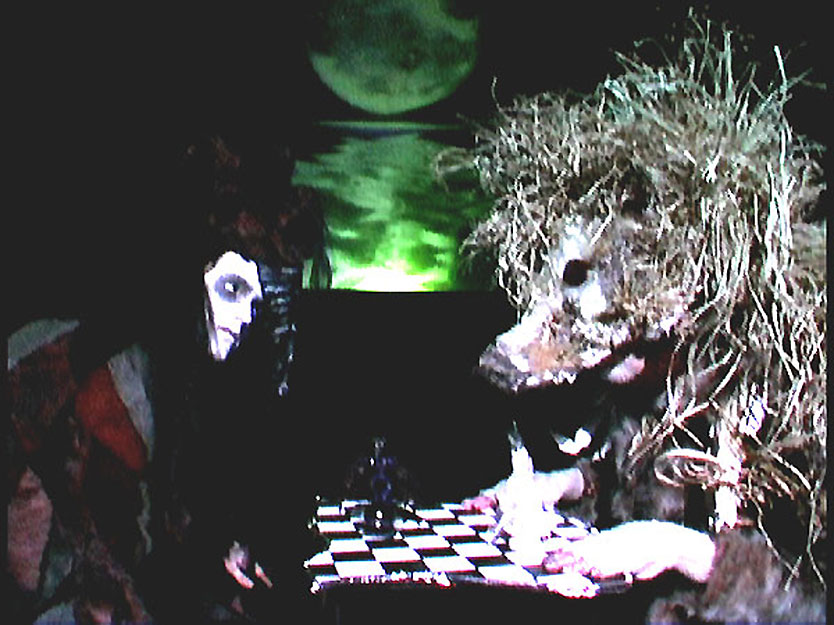 "Under a Shipwrecked Moon" (2003; 96 min.) An Ancestral Romance. The power of a long-buried family secret is unleashed when the extreme rituals of young punk rocker Jari catapults him into the spirit realm to search for his father, a ship captain who drowned at sea. Joining Jari on his journey is the spirit of his grandmother, a Finnish sorceress named Sisu, in this surrealistic fable of true love, giant hedgehogs and the mystical depths of ancestral bonds. Click images for production details.

In "Under a Shipwrecked Moon," filmmaker Antero Alli presents the classic mythic tale of a hero on a vision quest, but places it in a naturalistic setting where the fabulous and the visionary is seen as a part of everyday life. The visions provide a metaphorical guide to the forces which are the underpinnings of life's dramas. In doing so, he enables the viewer to build a bridge between the quotidian and the visionary, the living and the dead. - David Finkelstein for filmthreat.com (4 stars)

---
"HYSTERIA" (2002)

---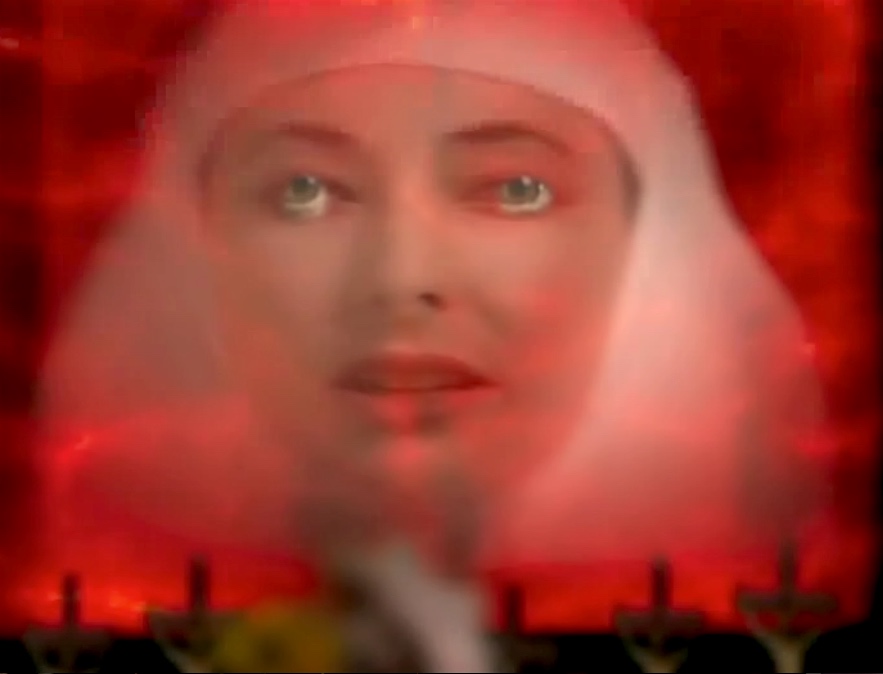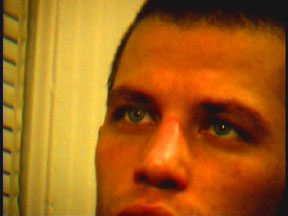 "Hysteria" (2002; 83 min.) A Suspense Drama. During the Serb-Croatian war (1991-95), Ikar - a young Catholic soldier - unwittingly drinks hallucinagenic datura tea triggering a fullblown visitation (or hallucination?) from the Holy Virgin Mary who gives him "a special mission". To fulfill his religious destiny, Ikar migrates westward to Oakland California and starts pugilist training in preparation for his incendiary apotheosis. Written by Antero Alli and Jakob Bokulich (who also plays Ikar). Click images for production details.

"HYSTERIA" is a profound and frequently disturbing work of intelligence that forces viewers to weigh in on emotional issues that haunted America as a result of the tragic events of 9/11: the damage created by religious dogma, the terror in dealing with inner fears, and the inability to justify a societal mind frame built on a foundation of selfish behavior." - Phil Hall, filmthreat.com (5 stars)

---
"ROADKILL" (2001) Short Film

---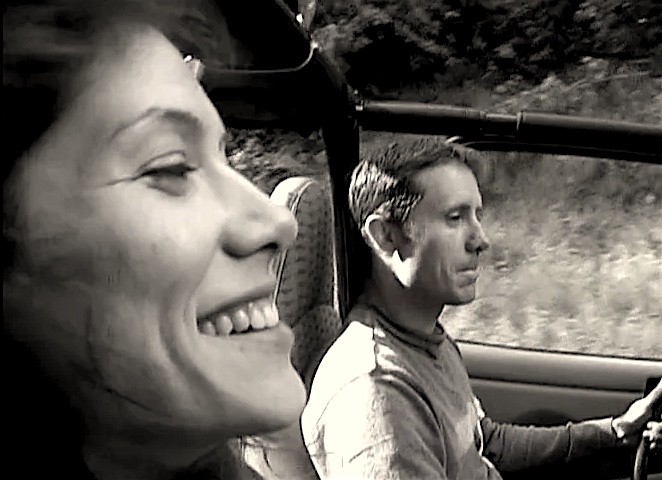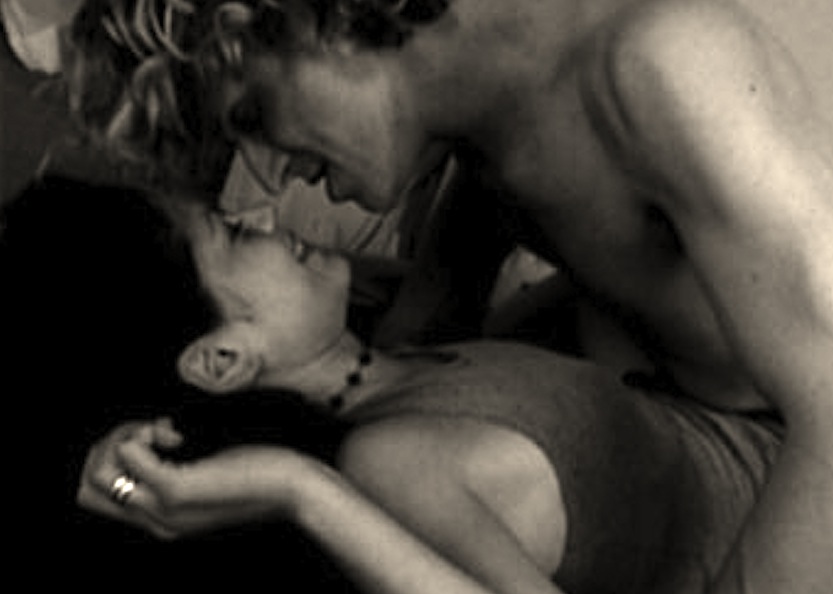 "Roadkill" (2001; 27 min.) On Love & Other Difficulties. Best pals PAULA & OTTO (Susan Schramm and Dana Bergeman) are peas in a pod, compatible in love and their work as successful nature photographers. Their pictures hang in an esteemed art gallery. MAX & CLIO (Paul D'Addario and Carla Negri) are madly in love, mad about each other and mad at each other. They inspire each other's obsessions. She must draw him; he must have her. Theirs is a love of...exquisite annoyance. All the action and dialogue improvised on site.


"...uncomfortable and cathartic, not unlike the feeling of gazing up a car crash: a difficult sight to behold, but also too intriguing not to look at and there is also the hidden sensation of knowing the heavy damage belongs to someone else; an excellent short film." PHIL HALL, filmthreat.com (4 stars out of five)
---
"TRAGOS" (2000)

---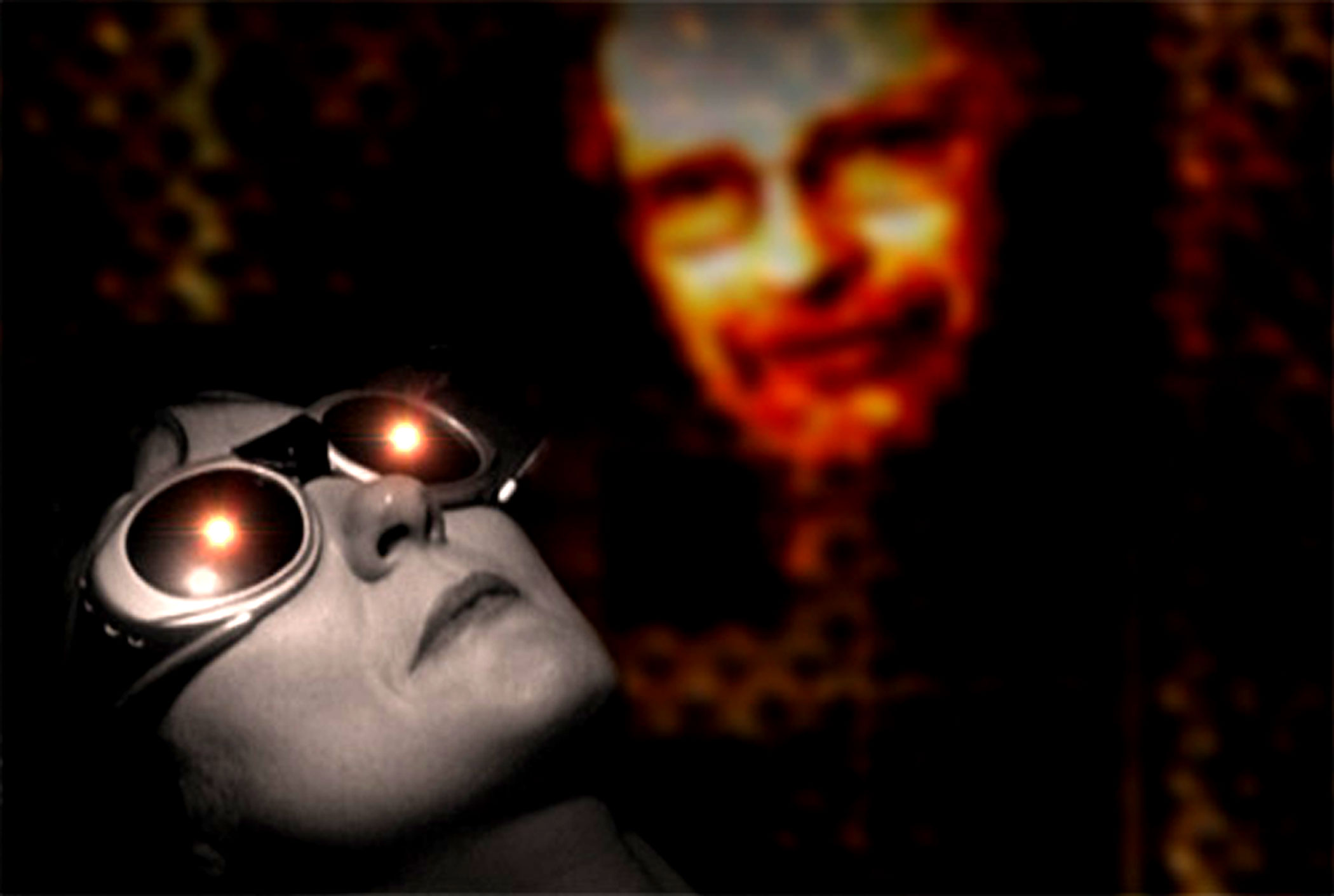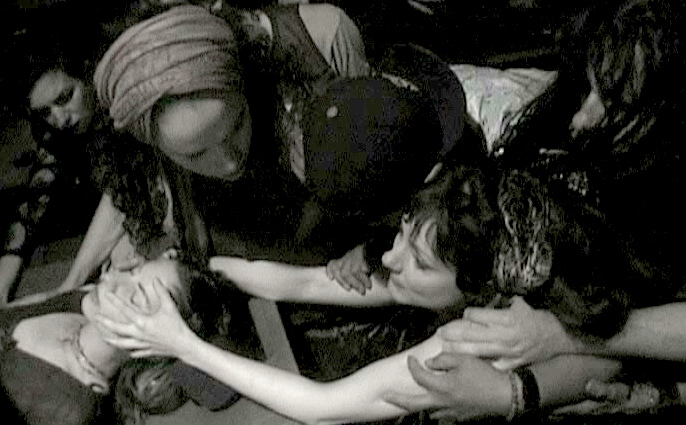 "Tragos" (2000/01; 105 min.) A Cyber-Noir Witch Hunt. Underground San Francisco. An urban tribe of technopagans perform their ecstatic rites in "Tragos", a complex virtual reality program. One night their leader, Bella Luxor, overamps the program and goes blind, while her sister Vivika is 'assimilated' into Tragos as a disembodied entity. Was her death accidental or has Tragos become a suicide machine? Robert Logos, a fundamentalist Christian attorney, views Vivika's death as the workings of a satanic cult and hires a mole to infiltrate the group in this chilling tale of over-reliance on gadgets and God in the digital era. Click images for production details.

TRAGOS is an intellectual adrenaline rush of hypnotic strength and emotional depth. In "Tragos," the filmmaker envisions a future where the desire to escape from government and media thought-control drives people underground. Though perhaps the future is a lot closer than we think, since the parallels between Alli's futuristic tale and the assault on many basic contemporary liberties seems too close for comfort. - Phil Hall, filmthreat.com (4 stars)

---
"THE DRIVETIME" (1995)

---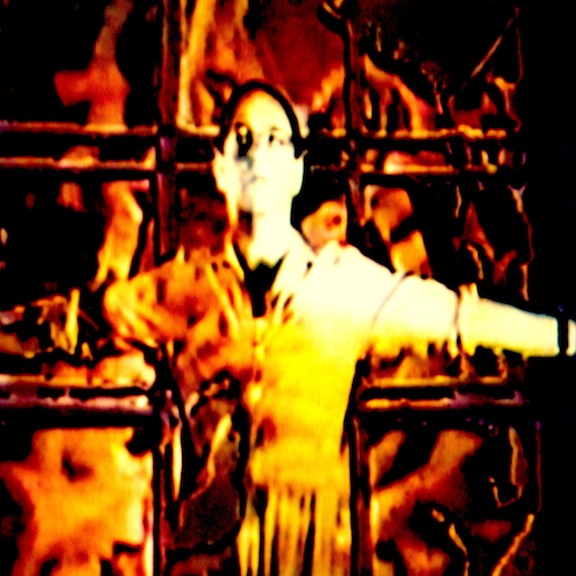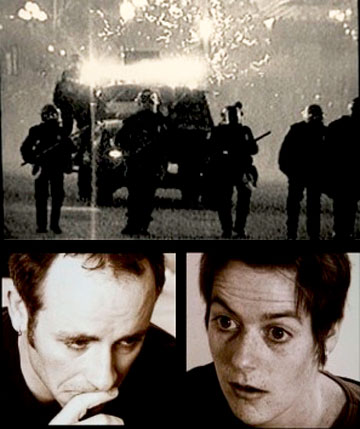 "The Drivetime" (1995; 86 min.) A Cyber-Fi Video. In the hopes of obtaining politically sensitive video footage of police riots, a federal achivist from the year 2023 uses a flawed Time Travel device to return to Seattle circa 1999 via the dreams of a video activist. The Drivetime refers to an image-rich corridor expressing the overlap between dreamtime and daytime realities. The Drivetime movie was created during the birth of the internet within the seething underground Seattle subculture, circa 1995. Written and produced with Rob Brezsny. Click images for more product details.

"One of the most chilling yet innovative cinematic essays on the flaws of today's technology-obsessed society. This work should be seen by anyone who mistakenly believes that all's calm and well in our little digital sphere. Alli's iconoclastic view of a future world projects a dazzling stream-of-consciousness skein of technical wizardry and provocative wordplay." - WIRED Magazine

---
VIDEOPOEMS (1992-2018)
>> Plus "bird&wolf" music videos (2017-2019)

---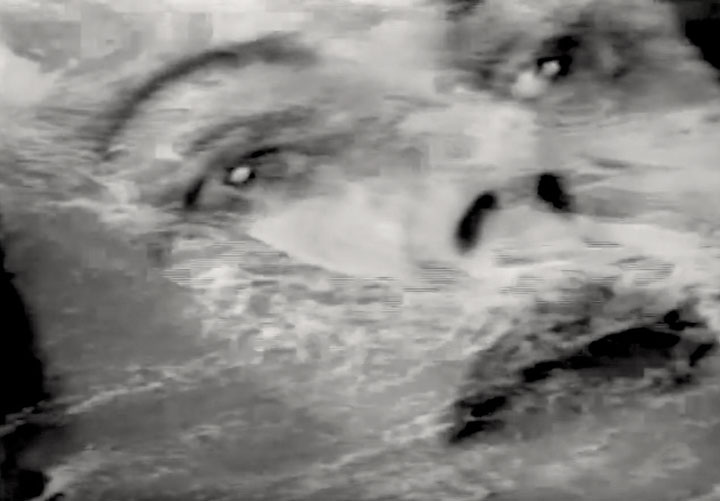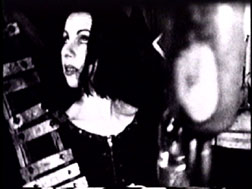 "LILY IN LIMBO" starring SYLVI ALLI

""Lily in Limbo" presents a one-woman tour-de-force by Sylvi Alli as an artist whose self-imposed isolation corrupts her senses into a state of bitterness and delusion. In her solitude, she loses herself in a series of bizarre dreams thick with haunting images and disturbing sounds (Sylvi created the film's quirky score), while the unlikely delivery of a curious birthday gift disrupts her comfortable world. A fascinating essay of a lost soul who is uncertain whether rescue is something she really wants." -- PHIL HALL for filmthreat.com

---> viewing link for "Lily in Limbo"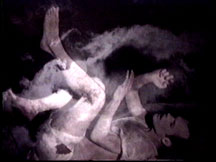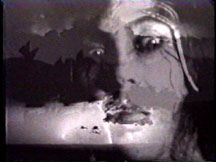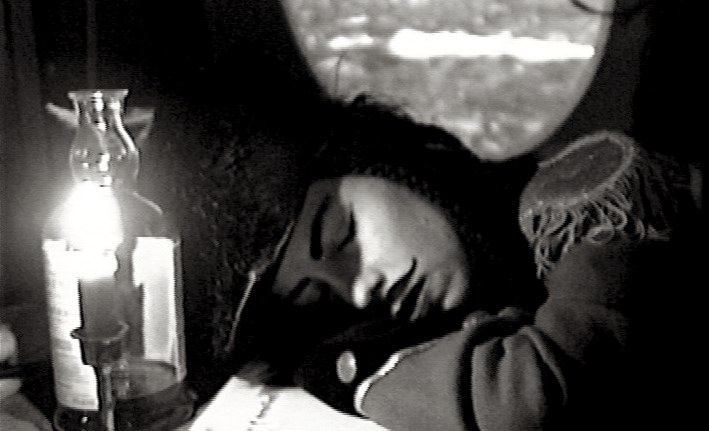 WITCH BURNING, text by Plath; MOUVEMENT, text by Rimbaud; ANTI-PHILOSOPHER, text by Tzara.

"Set to poetic texts, often to excellent music by his long time collaborator Sylvi Alli, these films show Alli's command of film editing and visual language, and his ability to draw performances of deeply grounded power from dancers and actors, to create visions which are indeed loaded with the ability to evoke deep longings, exaltations, cultural memories, and altered spiritual states." - David Finkelstein for filmthreat.com (4 stars)

WATCH ALL THE VIDEOPOEMS
The underlined titles are VIEWING LINKS:
LILY IN LIMBO (1996; 27:00), text by Hilda Doolittle (HD); poetry film
MOUVEMENT (4:00; 2001) text by Arthur Rimbaud; videopoem
FEARS (8:30; 2001) text by Rainer Maria Rilke; videopoem
FAIRY (4:00; 2000) text by Arthur Rimbaud; videopoem
ANTI-PHILOSOPHER (4:00; 1999) text by Tristan Tzara; videopoem
WITCH BURNING (4:00; 1998) text by Sylvia Plath; videopoem
BOOK OF QUESTIONS (6:00; 1993) text by Pablo Neruda; videopoem
BOMBS & PRAYERS (6: 00; 1993/96) text by Rob Brezsny; videopoem
A POISON TREE (3:41; 2018); text by William Blake; videopoem
BLACK SEA (4:00; 1992); text by Antero Alli; videopoem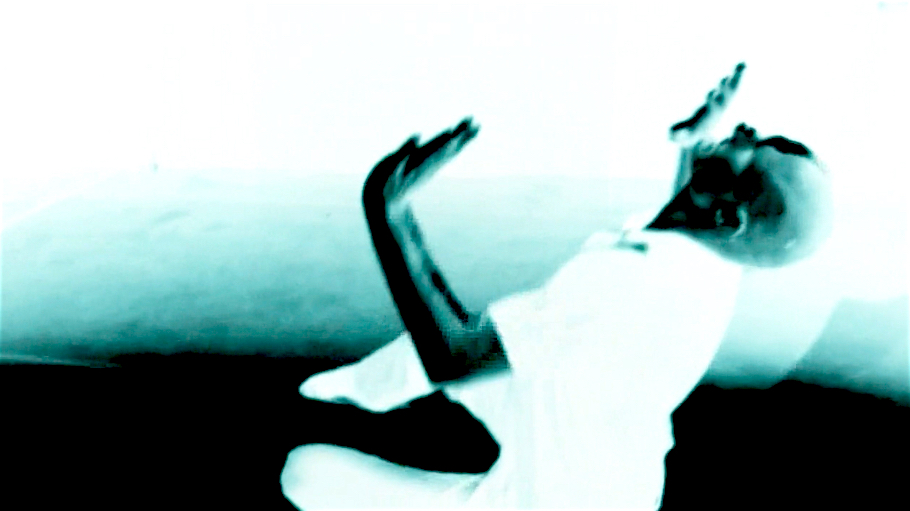 Click to watch "EXTRACTION" ; bird&wolf music video

NEW >> VIEWING LINK for "bird&wolf" music videos (2017-2019)
bird&wolf is Sylvi Alli, vocals & lyrics,; Antero Alli, guitar & video




---
ParaTheatrical ReSearch Video Documents

---

Click any image below for viewing links.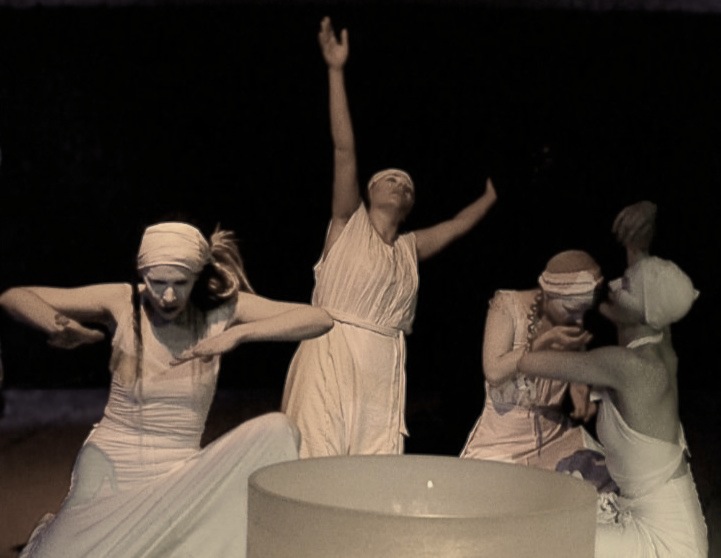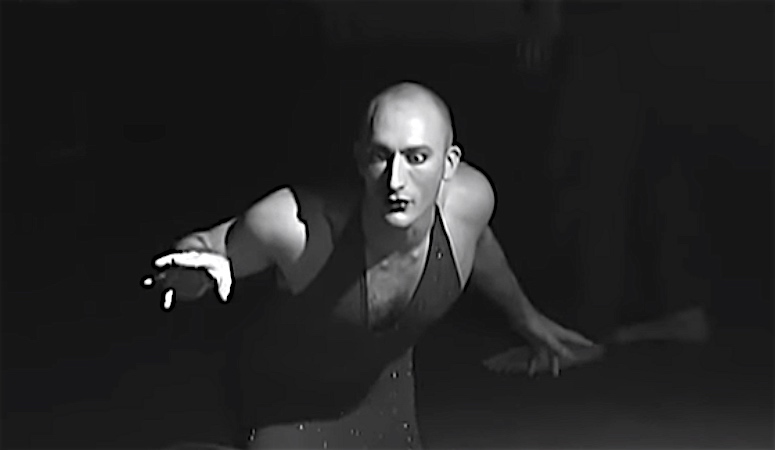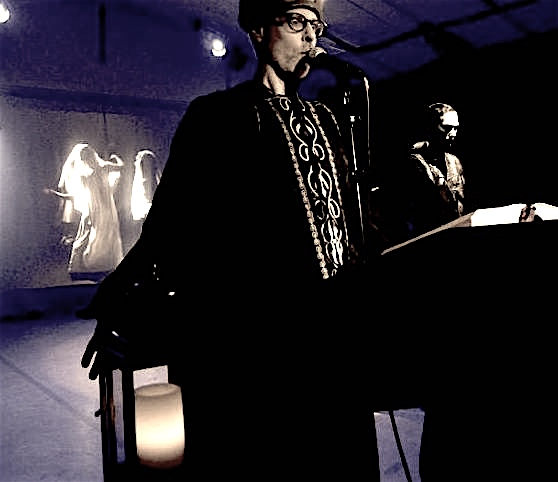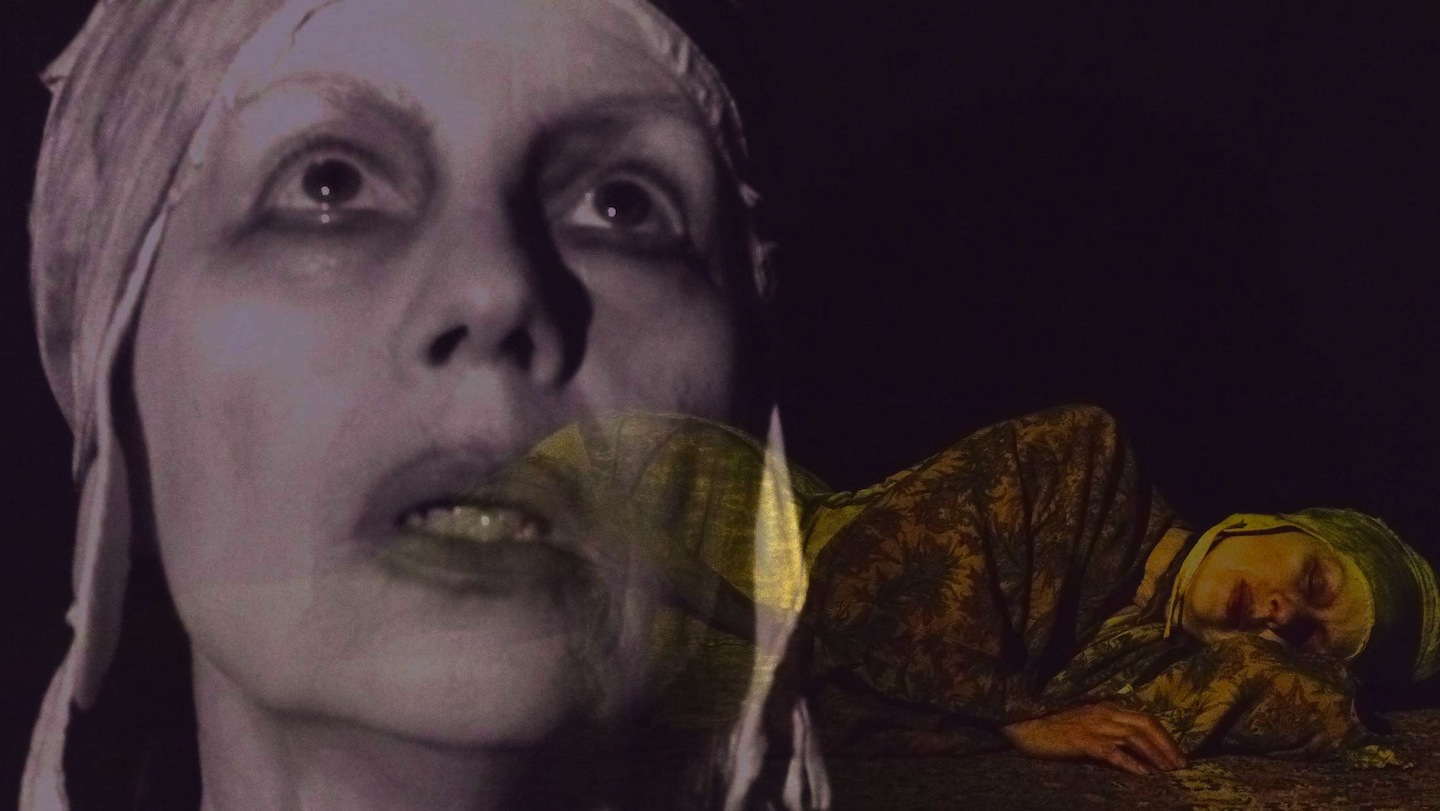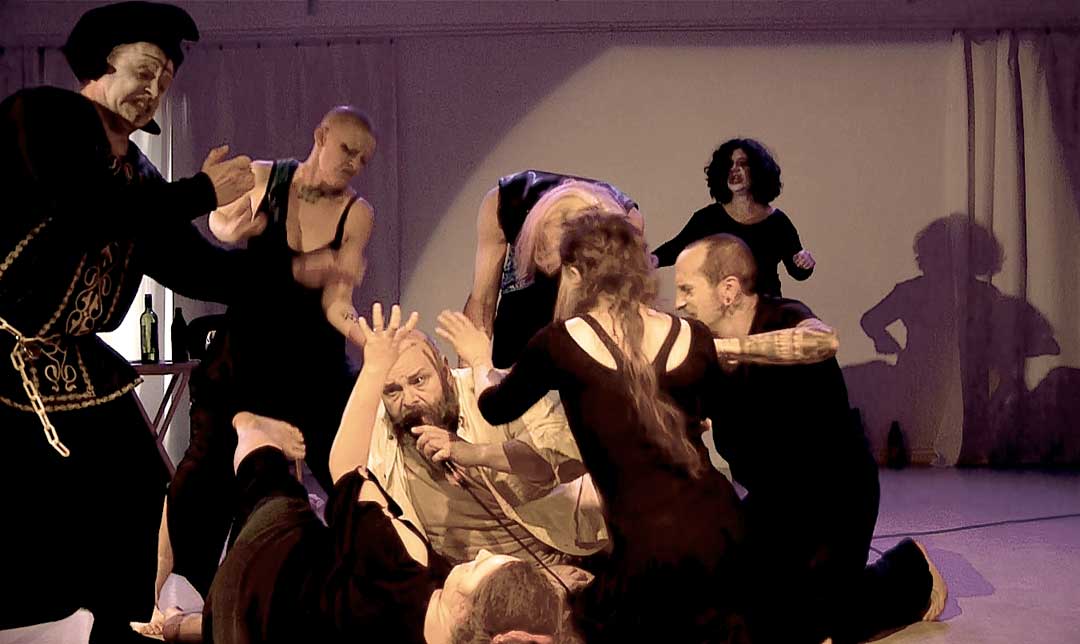 "Orphans of Delirium" (2004); "dreambody/earthbody" (2012); "Crux" (1999);
"A Turbulence of Muses" (2016), "Bardoville" (2017), "Soror Mystica" (2017)
"Fallen Monsters" (2018), "Escape from Chapel Perilous" (2018),
and "Archaic Community" (1991)

Nine video documents (1991-2018) show performance and non-performance
modes of a paratheatre medium I have been actively developing since 1977.
All are now posted online for free viewing. - Antero Alli



---
8 CIRCUITS OF CONSCIOUSNESS: A Lecture

---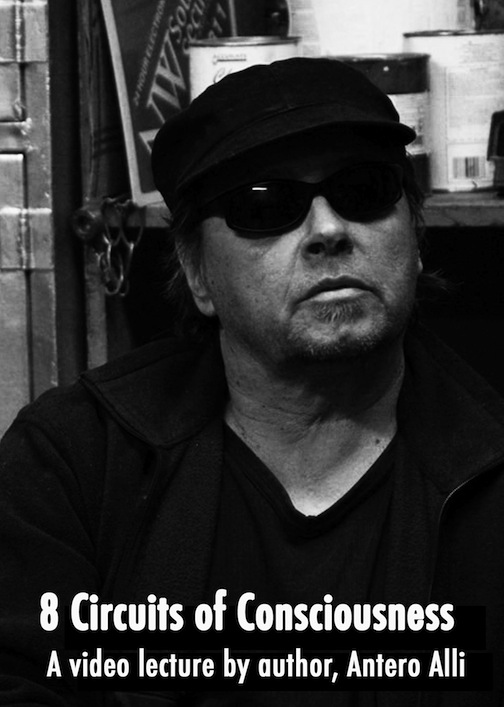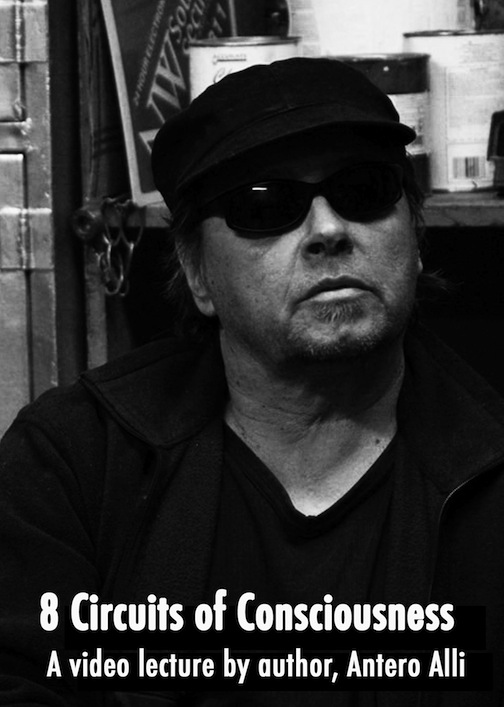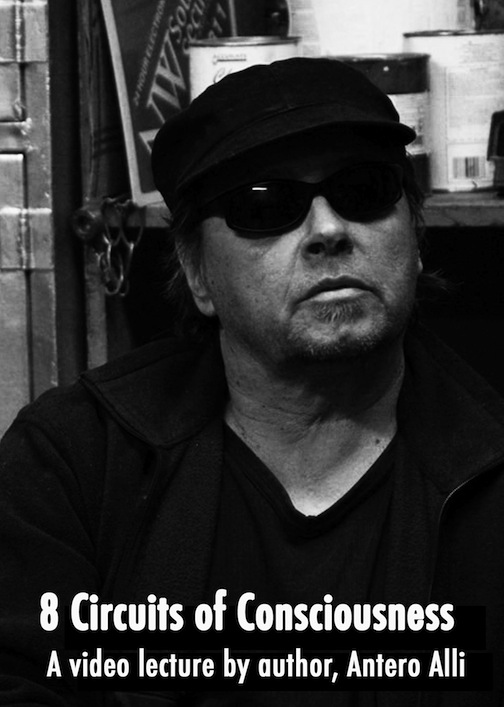 8 Circuits of Consciousness (2009; 86 min.) A Lecture. In this informal lecture Antero discusses the origins and evolution of this system, how his approach differs from Leary's ("Info-Psychology") and Robert Anton Wilson's ("Prometheus Rising"), why "Angel Tech" had to be written, the meaning of "reality selection", on redefining "sanity", the first and second attentions, the nature and function of shock, on vertical connectivities linking upper and lower circuits and much more. Click above image for product details

"Antero Alli is that special brand of human -- a frontier scout for the species --
out there on the rim where past and future intersect." - Timothy Leary, PhD author

"Some who like to talk of things 'mystical' but have no firsthand knowledge,
may find Antero's realism a bit disconcerting..." - Robert Anton Wilson, PhD author

---
MOST OF THESE FILMS AVAILABLE ON DVD

---


DVD prices:
$20. each within U.S.A.
$30 each for International orders
First Class postage and shipping included on all orders - USA and International.


PAYPAL Payments
There is no "BUY THIS" button for PayPal purchases.
Send your PayPal payment to: verticalsource@gmail.com
Include a note about what you are purchasing.
NON-PAYPAL orders: make postal money order or bank check payable to
ANTERO ALLI and mail to ANTERO ALLI, PO Box 19382, Portland OR 97280.
Note: Please include DVD titles, e-mail, and return address with your order.



SPECIAL DISCOUNT OFFERS
1) Buy 3 DVDs and get a free Soundtrack CD of "The Book of Jane"
or "Under a Shipwrecked Moon" or "Flamingos". Please list the DVD
titles you are ordering plus your choice of the free bonus CD.
2) Buy any 4 DVDS and get a fifth DVD of your choice for free.
Please list the DVD titles you are ordering plus your choice of the bonus DVD.
3) Inquire about discounts on purchase of more than four DVDs.


THE DVD FORMAT
All DVDS format NTSC and SD (Standard Definition 480p), not HD or BluRay.
All these dvds burned on "dvd-r" format, region code "0". These dvds will play
on most computers and dvd players but not all of them. If any dvd does not
play on your device, you may return the dvd in its original (unscratched)
condition for a full refund.


re: public broadcasts & screenings of these films
These dvds are released for private home-viewing only. Any public screenings
or broadcasts on any public media without written consent from the producers
is prohibited by law. Very reasonable rates are offered for public showings of
all these films, with or without admission charged. If you wish to screen or
broadcast my films publically, click this.



All DVDs/films listed on this web page © 1991-2020
Antero Alli & Vertical Pool Productions -- All rights reserved.




---
ABOUT THE FILMMAKER

---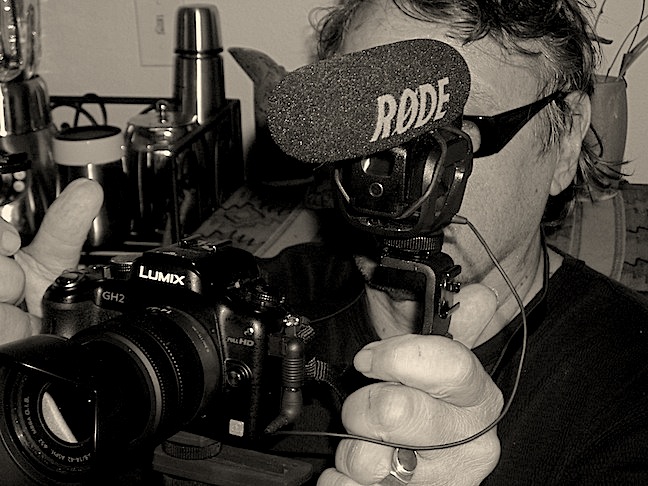 click for I.M.Db profile

CONTACTS
Address all correspondence to Antero Alli at:
verticalsource@gmail.com or PO Box 19382, Portland OR 97280

ANTERO ALLI has been writing and directing underground feature films in 1993. His deep background in experimental theatre (since 1975) imprints his work with a distinct theatrical sensibility. His movies have been extensively reviewed at filmthreat.com and seen in limited runs on the west coast arthouse circuit. In 2015, he took a five year hiatus from filmmaking to develop, direct and produce five intermedia physical theatre works (documented on video) while creating a series of music videos with his wife, Sylvi. His next film "The Vanishing Field" premieres March 28, 2020 at Clinton Street Theater in Portland OR..


"A Cinema of Otherness"
Subverting Mainstream Values & Standards

VISION STATEMENT and VIDEO/FILMOGRAPHY
"Why I Make Movies" -- list of titles , clips, stills, reviews